FISD Boston Buyside Meeting Recap
On May 7th the cry went out in Boston – 'The British are Coming', but as it happens it was just a single Brit - FISD's David Anderson, and he came in unequivocal peace. All for the FISD Boston buyside meeting that afternoon – expertly hosted by Eaton Vance. Twenty two buyside market data practitioners from 9 Boston based firms sat down for two hours of intensive discussion covering Index Benchmarks, Credit Ratings, Audit, ESG, Alternative Data and Equity Research - followed by drinks on the Eaton Vance terrace when the sun finally shone in Boston. This meeting is one part of FISD's strategic initiative to engage in more depth with our buy side community. For more information about the FISD Buyside group and events, please contact David Anderson.
Coming Soon: FISD Discussion Forum
FISD is about to launch a new networking tool: an online discussion forum. Bring your timely market data industry questions and your wisdom to help solve others' quandaries. More information about the launch is coming soon, so watch your inbox. Contact Hope Wilkes with questions.

WFIC 2019 Preliminary Schedule Announced
FISD has announced the preliminary schedule for the 2019 World Financial Information Conference taking place October 13-16 in Vancouver. WFIC is the only global event that focuses exclusively on issues associated with dissemination, management and use of financial information.
Program highlights will include
An exploration into the future of the market data profession

A primer for new vendors

Artificial Intelligence, Machine Learning and Natural Language Processing

Emerging Markets

Millennials and Market Data Trends

The Cloud

Alternative Data Delivery Platforms

Alternative Data Ethics

Audits

Digital Rights Management
Presentations
View the 2019 Preliminary Schedule
Register now to join 600+ senior financial information professionals in three and a half days of panels, educational sessions, networking and fun.

FIA + Training Bundle Available Now
For those of you who are nervous about taking the FISD Financial Information Associate (FISD FIA) exam unfortunately we've eliminated a reason to keep delaying. An eTraining + single exam bundle is now available for purchase. The self-paced online training from Finance Modules includes 59 short, digestible videos complemented by 150 pages of printable notes and quizzes. Find out more here. Contact Hope Wilkes with questions.

Announcing Next FISD Reads Book Pick: Loonshots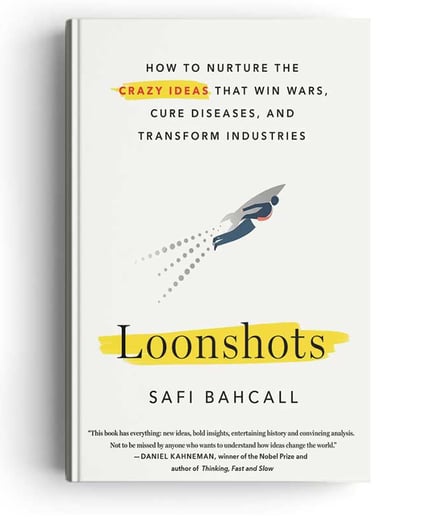 Did you know that FISD has a digital book club? Read the book then discuss it with your fellow members on LinkedIn, in person, or on the FISD Discussion Forum (coming soon). Books are focused on leadership topics, business trends, and big picture thinking.
The Summer 2019 pick is Loonshots: How to Nurture the Crazy Ideas that Win Wars, Cure Diseases, and Transform Industries by Safi Bahcall.
Why you should care: This is a highly readable rulebook for fostering breakthrough innovations. Want to see your business survive, want to see your industry remain healthy? Make sure it can grow, and in a big way.
Why it's awesome: One reviewer wrote, "Who knew that one idea could connect naval battles, chirping crickets, and the birth of modern science. If The Da Vinci Code and Freakanomics had a child together, it would be called Loonshots. This book is a must read for anyone in business, education, or public service."
Join the LinkedIn group here and stay tuned for updates about the FISD Discussion Forum. Questions? Contact Hope Wilkes.

APFIC 2019 is Right Around the Corner!
Asia Pacific Financial Information Conference "APFIC" will take place June 11-12, 2019 in Hong Kong. Activities will take place at various locations around the city and be anchored by a full day program and exhibits at the Ritz Carlton Kowloon. The Event Program will be focused on the trends that are affecting businesses in APAC and beyond. If you'd like information about sponsoring APFIC, please touch base with Tracey Shumpert or David Anderson.

Share Your News in the FISD Newsletter
Members can have their press releases, events, white papers, blogs, news articles and job postings featured in the FISD Newsletter. Delivered monthly to thousands of financial information professionals, the newsletter is a great place to spread your news. Email relevant material to Michael Zingali with the subject line "FISD Newsletter Submission".
---
Upcoming Event Information



June 6 - FISD Sydney
June 11-12 - Asia Pacific Financial Information Conference
June 13 - FISD Issue Brief (London)
June 18 - FISD Women's Group (NYC)
June 20 - FISD Technology Forum & General Meeting
---
FISD Working Groups
Consumer Index Group
*Next meeting is scheduled for June 18
Contact: Nick Merritt +1 202-789-4441
Consumer Constituent U.S. Exchange Data Sub-Group
*Next meeting is scheduled for June 3
Contact: Tom Davin +1 202-789-4465
Business Issues Policies and Practices Standards (BIPPS) Working Group
Contact: Tom Davin +1 202-789-4465
Service Level & Communications Working Group
* Next meeting is scheduled for May 24
Contact: Nick Merritt +1 202-789-4441
FISD Constituent Groups
* Next Consumer meeting is scheduled for May 29
* Next Exchange meeting is scheduled for June 12
* Next Data Vendor meeting is scheduled for June 12
*All constituent group meetings are invitation only
Consumers Contact: Tom Davin +1 202-789-4465
Exchanges Contact: David Anderson +44 (0) 1825791382
Data Vendors Contact: Nick Merritt +1 (202)789-4441
---
Staff Travel Schedules
Tom Davin (DC Office):
São Paulo: May 15-17
Sydney: June 6-7
Hong Kong : June 10-13
New York: May 21-22, June 18-20

Nick Merritt (DC Office):
London: June 12-14
New York: June 19-20

David Anderson (UK Office):
Hong Kong : June 10-13
New York: June 18-20

Anika King (DC Office):
London: June 12-13
New York: June 18-20
Tracey Shumpert (NYC Office):
Hong Kong : June 10-13
New York: June 18-20

Hope Wilkes (DC Office):

Michael Zingali (DC Office):
New York: June 19-20