Wow. Blink and you'll miss it - do you ever get that feeling?
Somehow we have already stumbled into spring and are ready to bloom!
Just as the spring buds have been gathering energy all winter, so, so much has been going on under the surface at London Speech Workshop. Now we emerge from our hibernation to share all the things we've been working hard on for you.
Firstly - after a long gestation period we birthed our new website. We hope that the new design is easier to use, and reflects better our ethos and passion as a company. If you haven't already, I invite you to take a look for yourself.
In the theme of growth and inspiration I continue to be inspired by my own little boy, now two, who is sharing his growing love for communication with me. His latest discovery is using the word "because" for the pure enjoyment of making a sentence run longer and longer. He reminds me that the pleasure of communication is not just in sharing ideas but in the simple joy of connecting with others through our voices. Communication is so essential to what makes us human, and such a beautiful aspect of human relationships.
So I urge you to take simple joy in conversing today, and every day, whether with the bus conductor or a neighbour, just to feel the connection.
It's these small moments of connection, as well as the big moments of inspiration, that propel us forward and get us to smile from the inside. So here's to embracing the vibrant energy of Spring and Summer and reaching for better: more sunshine, more smiles, more inspiration, more connection.
If you want to build more connection in your world, thats what gets us going. In pursuit of helping you be your best selves, we have also been busy developing new materials for our effective communication course. One of our most powerful new tools is our "meal plan", which we are finding truly pops for our clients, giving their presentations an added bit of magic.
I am excited to announce that we have two incredible new coaches joining us this month who will be working out of two beautiful new offices in Mayfair and Liverpool Street. They will be bringing a wealth of talent and experience to infuse with the London Speech Workshop methodology.
We are hugely passionate about the work we do, and nothing lights us up like the stories we hear daily from clients about how these simple tools are changing their lives for the better.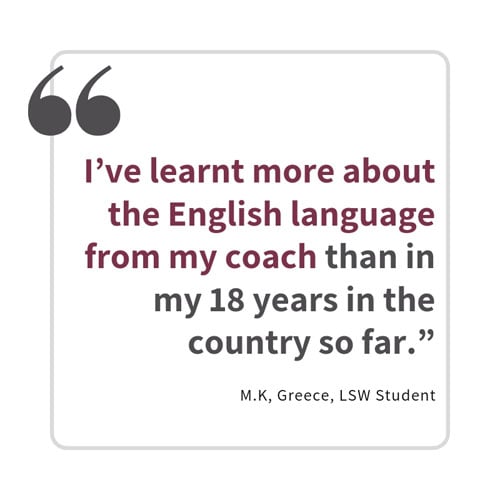 Finally, I encourage you to embrace the new growth and inspiration that comes to in all sorts of ways at this beautiful time of year 🌸
- Emma