WFIC 2019 Early-Bird Registration Now Open!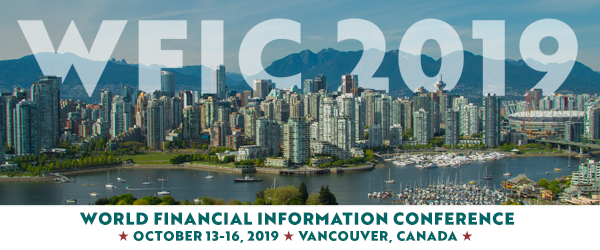 No more waiting for WFIC! Early-Bird Registration has opened for the World Financial Information Conference taking place October 13-16, 2019 in Vancouver. The biennial gathering will feature panels, presentations, round-table discussions, and structured networking, as well as the famous Deutsche Börse Party (and maybe even some surprises). 500+ senior-level delegates from around the world are expected to attend.

Early-Bird Rates*:
Regular Member $1,300
Consumer Member $600
Standard Rates*:
Regular Member $2,000
Consumer Member $600
Early-bird rates end March 22, 2019
*WFIC is not open to non-members at this time. If you wish to discuss membership, please contact Tracey Shumpert.

FISD 2019 Executive Committee Announced
The FISD Executive Committee (EC) is charged in the FISD Bylaws with representing the FISD membership and setting the broad direction for FISD activities. In this capacity, the EC reviews and approves new initiatives, provides guidance to working groups and the FISD/SIIA staff, identifies priorities for the FISD budget and staff resources, and selects new EC members when vacancies open. Congratulations to Steve Dickey of CBOE and Marcy Pike of Fidelity who have officially started their roles as Chair and Vice-Chair respectively. FISD would like to welcome the new EC members: TD Ameritrade, OTC Markets and TRG Screen, and the returning incumbents. The complete list of Executive Committee members can be viewed here.
APFIC 2019 is Moving - Register Now!

The Asia Pacific Financial Information Conference is moving to June 11-12, 2019 in Hong Kong. The event will feature exciting panels, presentations and roundtable discussions, constituency group meetings for Consumers, Exchanges and Vendors, a stylish kickoff cocktail party, a women's group networking event, and more. Please register now to enjoy early-bird ticket pricing, which will save delegates an average of $400 a pass. If you'd like information about sponsoring APFIC 2019, please touch base with Tracey Shumpert or David Anderson.
Data Provider Pilot Program
The Service Level & Communications Working Group continues work on the Data Provider Evaluation Pilot Program. The Pilot Program is designed to provide more feedback to more Data Providers. This feedback reflects how well a Data Provider utilizes the suggested recommendations contained in the Working Group's Best Practices document. A dozen Data Providers have volunteered to receive confidential feedback from the Working Group members. FISD members that are at the receiving end of data are strongly encouraged to be a part of this Working Group and provide feedback to these Data Providers who are eager to receive it. Let's not waste this opportunity to enhance communication and improve rollouts of new products and policies. Interested FISD members should contact Nick Merritt.
Rising Stars Returns to NYC April 10
Save the date! Global Sponsor S&P Global Market Intelligence has graciously agreed to host the next FISD Rising Stars event on April 10 in their 55 Water Street space. This event will focus on Recruiting and Retaining Millennial Talent. Contact Hope Wilkes for more information.
P.S. Spread the word within your organization! FISD defines a rising star as anyone striving to achieve greater success and career growth, so everyone is invited.
Announcing the Next FISD Reads Selection
To kick off 2019, the FISD Reads LinkedIn Group will work its way through Leap: How to Thrive in a World Where Everything Can Be Copied by Howard Yu
Why this book: Amidst fierce competition, you can still have an advantage: creativity. Throw away the notion of "this is how we've always done it" and embrace big changes (leaps) to thrive long-term. Learn about leaps from a management scholar who has designed leadership programs for some of the world's leading companies.
Looking for Office Space in DC?
SIIA has office space available at its' DC office near the White House. Rent includes, free Wi-Fi, access to a large conference room, client-only athletic facility, full-service concierge. Underground parking available and the office is within walking distance to the metro. Contact Carl Walker, VP of Finance and Operations for more information.
Share Your News in the FISD Newsletter
Members can have their press releases, events, white papers, blogs, news articles and job postings featured in the FISD Newsletter. Delivered monthly to thousands of financial information professionals, the newsletter is a great place to spread your news. Email relevant material to Michael Zingali with the subject line "FISD Newsletter Submission".
---
Upcoming Event Information



February 27 - FISD Technology Forum (London)
March 7 - FISD Women's Group Luncheon (London)
March 14 - FISD Singapore
March 19 - FISD Shanghai
April 10 - FISD Rising Stars Happy Hour (New York)

---
FISD Working Groups
Consumer Index Group
Contact: Nick Merritt +1 202-789-4441
Consumer Constituent U.S. Exchange Data Sub-Group
Contact: Tom Davin +1 202-789-4465
Business Issues Policies and Practices Standards (BIPPS) Working Group
Contact: Tom Davin +1 202-789-4465
Service Level & Communications Working Group
Contact: Nick Merritt +1 202-789-4441
FISD Constituent Groups
*All constituent group meetings are invitation only
Consumers Contact: Tom Davin +1 202-789-4465
Exchanges Contact: David Anderson +44 (0) 1825791382
Data Vendors Contact: Nick Merritt +1 (202)789-4441
---
Staff Travel Schedules
Tom Davin (DC Office):
London: February 25-March 1
New York: April 10
Chicago: April 25
Nick Merritt (DC Office):
Toronto: May 2
David Anderson (UK Office):
London: February 27
Anika King (DC Office):

Tracey Shumpert (NYC Office):
New York: April 10
Hope Wilkes (DC Office):
New York: April 10
Michael Zingali (DC Office):
New York: April 10
Toronto: May 2