Construction Update
The construction progress of the new Vietnam Veterans Memorial Park was captured by photographer Francis Zera on a rare sunny day last month from the roof of Raisbeck Aviation High School. The raised semi-circle is where the B-52 will be mounted when the aircraft moves into place in several months.
As we get ready for the park's opening, we are collecting the final details for the tribute plaques that will be installed in time for the dedication ceremony on May 20, 2019. Plaques will still be available after the park opens, but the deadline to have yours included in the momentous unveiling is March 1, 2019.
If you have any questions about an existing plaque or to make an honoring gift to list a loved one on the wall, please contact Development Coordinator Gracie Loesser by phone at 206-768-7221, or by email at GLoesser@museumofflight.org.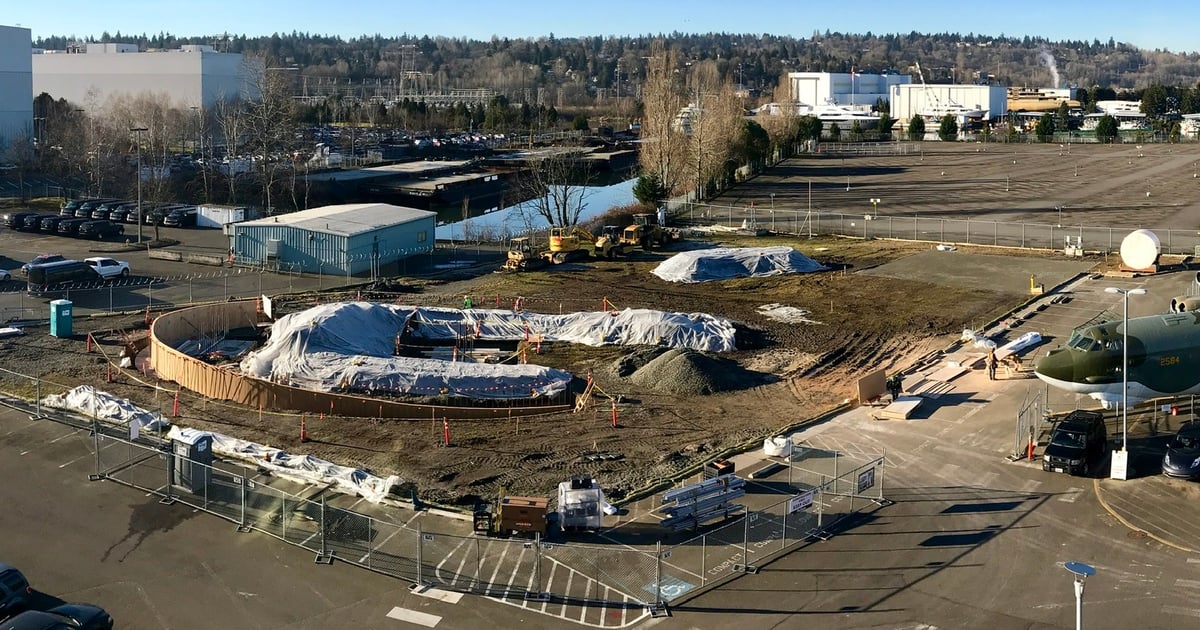 ---
Podcast: "How we got the MiG-21"
"During the early stages of the Vietnam War, the North Vietnamese controllers would position MiGs in ambush stations and make fast and deadly single pass attacks. In December 1966 alone, MiG-21 pilots shot down fourteen F-105s without any losses. These heavy losses of aircraft and crews led to the creation of the Navy Fighter Weapons School in Miramar, California."
The Museum's MiG-21 can be found in the "Vietnam Divided: War Above Southeast Asia" exhibit in the T.A. Wilson Great Gallery.
---
Featured Digitized Collection
Calvin H. Kam is a docent at The Museum of Flight, and a member of our volunteer speakers bureau helping spread the word within our community about the Vietnam Veterans Memorial Park. He served in the US Army from 1969-1973 flying helicopters and fixed wing aircraft, including a tour in Vietnam from April 1970-71.
The Calvin H. and Yun Kam Papers are just one of the donated collections that has been digitized and added to the Museum's online database. The collection spans several generations, and includes fascinating personal photographs from Calvin's tour in Vietnam.
---
The Greatest Beer Run Ever
"A lot of my friends were serving in Vietnam; I just wanted to go over there and buy all of them a beer. So that's what I did."
In 1968, John "Chickie" Donahue had already served two tours in Vietnam as a United States Marine. Tired of watching his friends being treated poorly by people protesting the war, Chickie made a comment about buying his friends a beer the next time he was in Vietnam to show his appreciation for their service. Within several days, he had managed to sneak back into the combat zone with a duffel bag of Pabst Blue Ribbon beer, and that's exactly what happened.