---
Welcome to Day 4 of the INFORMS Annual Meeting
Thank you for joining INFORMS for the 2018 Annual Meeting, we hope you enjoyed your time in Phoenix! The INFORMS staff certainly did; it is always wonderful to see our members in person. We hope to see you again soon at the INFORMS Analytics Conference (April 14-16 in Austin, TX); the INFORMS-ALIO International Conference (June 9-12) in Cancún, Mexico; the INFORMS Healthcare Conference in Cambridge, Massachusetts; and the 2019 INFORMS Annual Meeting (October 20-23) in Seattle, Washington.
Make sure to check out the November INFORMS eNews for a wrap up of the final day of the Conference. Until next time, safe travels!
---
---
Need to Know for #informs2018
Click here for everything you need to know throughout your time in Phoenix, including hotel and transportation information, tips for presenters, registration locations and guidelines, the INFORMS Center, and much more.
Newcomer Tips
New to INFORMS or the Annual Meeting? Click here for helpful tips!
---
---

Recap of Tuesday's General Member Meeting
Thank you to everyone who attended last night's Member Meeting! We are pleased to see such a strong turnout. As always, this event provided members and staff the opportunity to mingle and connect while hearing the latest news from INFORMS. Click here to read more.
---

Thank You INFORMS Volunteers
The following INFORMS members received special recognition at Tuesday night's Member Meeting. Thank you for all that you do for INFORMS!
Mark Eisner - For his leadership and dedication to the INFORMS History & Traditions Committee
Grace Lin - For her leadership and organization of the 2018 INFORMS International Conference in Taipei
Cameron MacKenzie - For his leadership and dedication in the Junior Faculty Forum and Decision Analysis Society
Paul Maglio - For his leadership and dedication to the Service Science Section and Service Science journal
Aly Megahed - For his leadership and dedication to the Service Science Section
Pratik Parikh - For his leadership and dedication to the Transportation Science and Logistics Society
Matthew Saltzman - For his leadership and dedication to INFORMS Information Technology, Computing Society, and INFORMS Journal on Computing
Jun Zhuang - For his leadership and dedication to the Decision Analysis Society and Decision Analysis journal

---
Check Out the Exciting Lineup of Sessions
Plenaries & Keynote Speakers
Click here to check out the exciting lineup of plenary and keynote speakers who will be addressing attendees at the Annual Meeting.
Practitioner & Student Pages
New this year is a special webpage that collates sessions and events to help practitioners and students better navigate the Annual Meeting and attend sessions with the most impact for them. Click here to learn more about the Practitioner Page, and here to learn more about the Student Page.
---
INFORMS Career Fair & Interview Days
Attention Jobseekers: Don't miss your chance to interview!
Monday-Wednesday, November 5-7
9am–3pm
By Appointment Only
Meet at the Career Fair on Sunday (only) or contact employers prior to the conference to pre-schedule an interview. Check out the available jobs posted here.
---
Annual Meeting Blog Roundup
Be sure to frequently check the Annual Meeting website to read commentary from your peers about their experiences in Phoenix. Feel free to post your own comment!
---
Congratulations to the 2018 Wagner Prize Winner!
Congratulations to Daniel Freund of Cornell University; Shane G. Henderson of the School of Operations Research and Information Engineering; Eoin O'Mahony of Uber Technologies Inc.; and David B. Shmoys of Cornell University for their winning paper, Analytics and Bikes: Riding Tandem with Motivate to Improve Mobility.
"Bike-sharing systems are now ubiquitous across the U.S. We have worked with Motivate, the operator of the largest such systems, including in New York, Chicago and San Francisco, to innovate data-driven approaches for bike-sharing. With them we have developed methods to improve their day-to-day operations and also provide insight on central issues in the design of their systems. This work required the development of a number of new optimization models, characterizing their mathematical structure, and using this insight in designing algorithms to solve them. In our presentation, we focus on two particularly high-impact projects, an initiative to improve the allocation of docks to stations, and the creation of an incentive scheme to crowdsource rebalancing. Both of these projects have been fully implemented to improve the performance of Motivate's systems across the country: Motivate has moved hundreds of docks in its systems nationwide and the Bike Angels program now aids rebalancing in San Francisco and NYC. In NYC, Bike Angels yields improvement comparable to that obtained through Motivate's traditional rebalancing efforts, at far less financial and environmental cost."
---
---
2018 Student Writers
Mobility on Demand Systems with Transit Integration
By Zulqarnain Haider
Tuesday's session on Mobility on Demand systems with transit integration was all about using the modern shared mobility options, like car share, shuttle share, among other options, and effectively integrating them with the existing transit systems. The session started with an insightful talk by Pascal Van Hentenryck of University of Michigan, about a case study from the city of Ann Arbor, which focused on using shared-shuttle service to solve the first mile/last mile problem for public transit. Read More.
The Number of Undocumented Immigrants in the United States
In his session, "The Number of Undocumented Immigrants in the United States," Mohammad Fazel-Zarandi, of the MIT Sloan School of Management, discussed groundbreaking research that he and Ed Kaplan and Jonathan Feinstein, both of the Yale School of Management, that indicates the actual number of undocumented immigrants in the U.S. is twice what previous estimates had indicated. Read More.
FCC: 2018 INFORMS Franz Edelman Award Reprise
INFORMS awarded the 2018 Franz Edelman Award for Achievement in Advanced Analytics, Operations Research, and Management Science for its use of operations research (O.R.) to create a revolutionary approach to meeting the rapidly growing need for the spectrum used for wireless communication in the United States and Canada. The award was presented earlier this year at the 2018 INFORMS Conference on Business Analytics & Operations Research, in Baltimore, MD. Read More.

INFORMS 2018 Wagner Prize Reprise
By Victoria Nneji
The 2018 Daniel H. Wagner Prize for Excellence in Operations Research Practice was awarded by Dr. Patricia Neri of SAS, on behalf of INFORMS, to Daniel Freund, Shane Henderson, Eoin O'Mahony, and David Shmoys for their work on "Analytics and Bikes: Riding Tandem with Motivate to Improve Mobility." This is following a five-year collaboration between Cornell and Motivate, the largest operation of bike sharing systems, that began in 2013. Read More.

Joint Session ORAM/QSR/Practice Curated: Panel Discussion on Academic Job Application and Interview Process
By Yeawon Yoo
Janis Terpenny, department head at Penn State University, started the session with the overall review of academic job application and process, from writing a cover letter to negotiation after having a job offer. She said that industry resumes usually requires a shorter resume, but for academia, more is the better. She also suggested having a consistent format style throughout your resume, starting with your name and contact information, education (what, where, title, chairperson), professional memberships, list of teaching & research interests, honors and awards, positions held, publication and presentations – be sure not to mix information. Read More.

---
---
---

---
INFORMS Communities & Subdivisions
Community Meetings
All are welcome to these meetings featuring business meetings, receptions, and networking sessions. For a complete listing, please click here.
Join a Community!
Whether you are a new or existing member of INFORMS, take some time while in Phoenix to sign up for a Community (also known as Subdivision) of your choice. There is no better way to maximize your membership and build your network. As a new 2018 or 2019 member, you qualify for one free Community! Click here to learn more.
---
---

Interactive Poster Session Winners
Monday, November 5
Congratulations to Oleg Gusikhin (Omar Makke) from Ford Motor Company for winning the Interactive Session on Monday with IoT and Connected Vehicle Analytics for Intelligent Air Quality Management.
Air quality is an increasing concern as urban areas continue to grow. For automotive industry, protecting vehicle occupants from pollution is a critical area of competitive advantage. This work illustrates how advancements in IoT sensors, connected vehicles technology and analytics enable intelligent cabin air quality management and optimized filter maintenance.
Tuesday, November 6
Congratulations to Rahul Swamy (Douglas M. King, Sheldon H. Jacobson) from University of Illinois at Urbana-Champaign for winning the Interactive Session on Tuesday with Political Districting with Fairness Objectives: An Optimization-based Framework.
Political districting (PD) is a problem of national interest. Classical models for PD focus on non-political objectives such as compactness. This paper addresses the question: How can voter information (e.g. polling data) be used to find politically fair districts? Three such criteria are used, based on fundamental fairness principles such as proportionality (efficiency gap), partisan (a)symmetry, and competitiveness. A multilevel algorithm reduces instance sizes by graph contraction and solves an exact nonlinear bi-objective problem. A case study in Wisconsin shows Pareto-frontiers between the objectives, and that solutions that are politically fair are still reasonably compact.
---
---
Pro Bono Analytics Thanks You for Your Support!
INFORMS Pro Bono Analytics partnered with St. Mary's Food Bank Alliance, a food bank and distribution network, and coordinated a volunteering initiative for attendees to build snack packs for Phoenix's homeless population and help make a positive impact in our conference host city. This effort would not have been possible without the financial support of our members, sponsors and exhibitors, and conference community contributing nearly $11,000 to fund the activity.
Thanks to our generous attendees and Pro Bono Analytics committee - we have achieved our goal of assembling just over 1,000 snack packs! They were picked up mid-day Tuesday by St. Mary's Food Bank and will be distributed to homeless individuals on the streets of Phoenix by this weekend. Our sincerest gratitude goes out to everyone who stopped by the INFORMS Center and helped build a kit while learning about Pro Bono Analytics and St. Mary's Food Bank.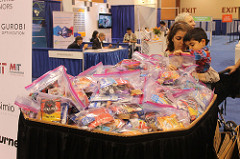 Missed the activity? No problem! Stop by the INFORMS Center to learn more about Pro Bono Analytics and how you can help by either volunteering your services or putting the committee in contact with a local nonprofit organization in your community that can benefit from our help. We will also be accepting donations to support St. Mary's Food Bank until the end of the conference.
---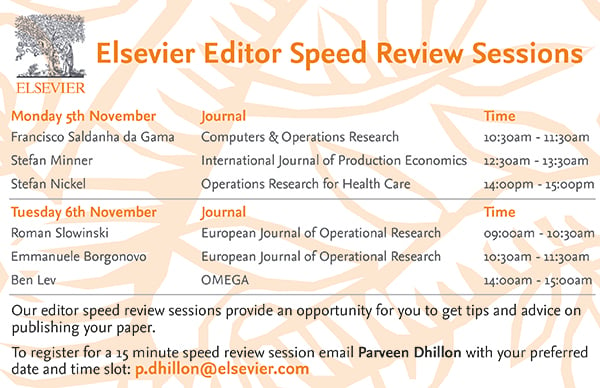 ---
Share Your Experience
Share your photos and video using #informs2018, and follow @INFORMS2018 on Twitter for official conference updates. This year INFORMS will be sharing from the meeting on Instagram and Snapchat at @INFORMS_ORMS for real-time conference videos and the INFORMS Phoenix Geofilter, which will be available in the Convention Center and Hyatt. Be sure to check out conference photos on the INFORMS Flickr account.

Join the Annual Meeting LinkedIn Group and the Annual Meeting Connect Group to virtually connect with fellow attendees and discuss key topics of the day.
---