---
Welcome to Day 3 of the INFORMS Annual Meeting
Check out a recap of the previous day's events, as well as a look ahead to today's meeting activities!
---
---
Need to Know for #informs2018
Click here for everything you need to know throughout your time in Phoenix, including hotel and transportation information, tips for presenters, registration locations and guidelines, the INFORMS Center, and much more.
Newcomer Tips
New to INFORMS or the Annual Meeting? Click here for helpful tips!
---
---

2018 INFORMS Annual Meeting Awards
Student Chapter Award Winner Announcements
Congratulations to all winners. We hope you had the opportunity to join us in recognizing the great contributions of our most dynamic student volunteers.

Judith Liebman Award
Neda Mirzaeian, Carnegie Mellon University
Lauren Steimle, University of Michigan
Carlos Zetina, Concordia University
Student Chapter Annual Awards
Cum Laude:
Northeastern University
University of Massachusetts
Arizona State University
University of Texas at Dallas
University of Michigan
Virginia Tech
Northwestern University
University of Toronto
Lehigh University
University of Alabama
Mississippi State University
Magna cum laude:
Carnegie Mellon University
University of Pittsburgh
University of South Florida
Concordia University
Koç University
Summa cum laude:
Auburn University
SUNY - Buffalo
Texas A&M University
Subdivision Awards
Throughout the Annual Meeting, the INFORMS subdivisions will be presenting their own awards. Click here for the list of awards that will be presented today.
---

Special Episode of Resoundingly Human
Throughout the Annual Meeting, INFORMS has been recording interviews with several meeting presenters for two special editions of the INFORMS podcast Resoundingly Human. The first is available here and features:
Ed Kaplan, former INFORMS President, or Member-in-Chief, and Yale University professor, discussing new research on the actual number of undocumented immigrants in the United States
Gino Lim, University of Houston professor, sharing how drones can be implemented to support patients in rural areas
Kayse Lee Maass, Northeastern University, addressing changes to shelters to improve recovery outcomes for human trafficking victims
A second special podcast episode featuring Annual Meeting presenters will be released later this month. Stay tuned!
---
Check Out the Exciting Lineup of Sessions
Plenaries & Keynote Speakers
Click here to check out the exciting lineup of plenary and keynote speakers who will be addressing attendees at the Annual Meeting.
Interactive Poster Presentations
Tuesday, November 6
12:30-2:30pm
Phoenix Convention Center, North Exhibit Hall E, 300 level
Poster Sessions allow presenters to benefit from the interactive critique, suggestions, and encouragement from colleagues working in similar areas, with three prize winners selected each day. E-Poster Walk Sessions feature electronic versions of competition semi-finalist posters from 12:30-2:30pm on both Monday and Tuesday in the Phoenix Convention Center, North Exhibit Hall E, 300 level.
Each poster presenter will also have two Golden Tickets to share with attendees of their choosing who attend their poster presentation. Anyone who receives a ticket can turn it in at the INFORMS Center for a special prize drawing. Five swag bags will be handed out on Tuesday.
New for 2018 - Flash Sessions
Tuesday, November 6
12:05pm
Phoenix Convention Center North, Room 231C
We invite you to come and join the audience in these stimulating rapid-fire sessions followed by Q&A's with each individual presenter at the end of the session. Click the links below to learn more about each session:
Flash Session I
Flash Session II
Flash Session III
Practitioner & Student Pages
New this year is a special webpage that collates sessions and events to help practitioners and students better navigate the Annual Meeting and attend sessions with the most impact for them. Click here to learn more about the Practitioner Page, and here to learn more about the Student Page.
---
---
INFORMS Career Fair & Interview Days
Attention Jobseekers: Don't miss your chance to interview!
Monday-Wednesday, November 5-7
9am–5pm (9am–3pm on Wednesday)
By Appointment Only
Meet at the Career Fair on Sunday (only) or contact employers prior to the conference to pre-schedule an interview. Check out the available jobs posted here.
---
Annual Meeting Blog Roundup
Be sure to frequently check the Annual Meeting website to read commentary from your peers about their experiences in Phoenix. Feel free to post your own comment!
---
---
2018 Student Writers
Introducing the INFORMS Analytics Body of Knowledge
With the popping of champagne bottles and the cutting of cake Monday evening, INFORMS officially introduced and celebrated the publication of the INFORMS Analytics Body of Knowledge or INFORMS ABOK. Read More.
Joint Session Integer Programming/O.R. Frontiers: Machine Learning and Discrete Optimization II
By Zulqarnain Haider
The marriage between machine learning and mixed integer programming (MIP) has recently been the talk of the town. Researchers around the world are imagining new ways of combining and merging the two powerful fields of machine learning and MIP. The joint session on machine learning and discrete optimization was second in a three-part series spanning multiple days and many speakers. Soon after the session started, the room was filled to capacity. Read More.
2018 George D. Smith Prize Reprise
By Victoria Nneji
The winner of 2018 UPS George D. Smith Prize is The University of Tennessee Haslam College of Business Master of Science in Business Analytics program. UT Haslam launched its first statistics program in 1940 and had its first student graduate in 1943. A woman named Jane (Greer) Puckett was a talented student who was rejected by the school of engineering but was welcomed by the school of business. Puckett went on to contribute to the Manhattan Project and was later featured in the book "The Atomic City Girls" (2018). Read More.
Navigating NSF: Funding for Operations Research at NSF
By Yeawon Yoo
The session titled "Navigating NSF: Funding Opportunities for Operations Research at NSF" on Monday afternoon was filled with many scholars who are interested in research funding. Georgia-Ann Klutke, Robin Dillon-Merrill, and Irina Dolinskaya from National Science Foundation (NSF) discussed some funding opportunities at the NSF. Read More.

Stochastic Optimization, Statistical Modeling and Distributed Processing Applied to Energy Planning
By Zulqarnain Haider
Dr. Mario Veiga Pereira is a traveling salesman for using O.R. techniques to solve large scale, complex problems. He runs PSR, an energy planning consultancy firm, out of Rio de Janeiro, Brazil. He leads a team of 60 scientists, many with PhDs in optimization, computer science, and machine learning, to provide invaluable services to countries – 80 by his latest count – throughout the world. Dr. Pereira is not just a consultant but a scholar with hundreds of publications in the areas of energy modeling, energy planning, and stochastic optimization. Read More.
Keynote: Scaling Transportation Capacity in the Age of E-Commerce
By Yeawon Yoo
Want to learn how Amazon delivers the item you ordered last night in front of your doorstep today? The plenary session titled "Transportation Network Design at Amazon" gives you an idea. The session starts with the introduction from Georgia Perakis, a plenary and keynote chair. Read More.

INFORMS Advocacy and the 2018 Midterm Elections
Earlier this year, INFORMS launched a new advocacy initiative to raise policymakers' awareness and interest in the O.R. and analytics fields, build strategic relationships between INFORMS and the Washington, DC policy community, and enable INFORMS to become a trusted source of expertise. Read More.

---
---
---

---
INFORMS Communities & Subdivisions
Community Meetings
All are welcome to these meetings featuring business meetings, receptions, and networking sessions. For a complete listing, please click here.
Join a Community!
Whether you are a new or existing member of INFORMS, take some time while in Phoenix to sign up for a Community (also known as Subdivision) of your choice. There is no better way to maximize your membership and build your network. As a new 2018 or 2019 member, you qualify for one free Community! Click here to learn more.
---
---

Can't Miss Social Events
Member Meeting, Receptions, Awards and More!
Come meet and form lasting connections with your fellow attendees at several social events that will be held during the meeting, including:
Member Meeting & Reception
Tuesday, November 6, 6-7:15pm
Hyatt Regency Phoenix, Regency AB, First Floor


The INFORMS Board of Directors encourages all members to bring their ideas, opinions, and suggestions to this meeting. Current business and future direction for INFORMS will be discussed. Outstanding members will be celebrated with the presentation of the Volunteer Service Award. Come to mingle, network, and celebrate! Light snacks, soft drinks, bottled water, beer, and wine will be served.



General Reception
Tuesday, November 6, 7:30-10pm
Arizona Science Center
Join us at the Arizona Science Center for a fun reception in a very unique venue! Make sure to share your experience with our special General Reception Snapchat filter!
Click here to learn more about these and other exciting social events!
CAPs & Coffee
Tuesday, November 5
3:30-4:30pm
Hyatt Regency Phoenix, Cassidy Room
This delightful event connects Certified Analytics Professionals (CAPs) with each other to discuss the value of CAP, recommendations on how to promote your CAP, and recertification. Join us to network and connect with your CAP peers.
---
Congratulations to the INFORMS Fellows Class of 2018
The 2018 Fellows were honored yesterday for their exceptional accomplishments and contributions to the advancements of analytics, operations research, and management science over a period of time.
Congratulations to:

Andrew P. Armacost, United States Air Force Academy
For sustained contributions to the application of operations research to military and transportation planning and for significant leadership in operations research education.
Vicki Bier, University of Wisconsin-Madison
For her intellectual leadership in decision and risk analysis and for her long-standing contributions to the INFORMS Decision Analysis Society.
Robert M. Freund, MIT Sloan School of Management
For sustained contributions to O.R. education and mathematical optimization.
Garud Iyengar, Columbia University
For exceptional research, ranging from theory to practice in areas ranging from robust optimization to data science, and for outstanding contributions to education, management and service.
John Milne, David D. Reh School of Business at Clarkson University
For exceptional practice of operations research, extensive service to INFORMS, and outstanding research in planning, scheduling, and supply chain management.
Jonathan H. Owen, CAP, GM Global R&D
For his contributions to and leadership in applied operations research and advanced analytics practice, and sustained service to the O.R. and management sciences profession.
Kavita Ramanan, Brown University
For her fundamental contributions to the theory of stochastic processes, stochastic networks and associated fluid and diffusion approximations, including Skorokhod problems and measure-valued processes.
Ramesh Sharda, Oklahoma State University
For exemplary research and educational contributions in decision support systems and analytics/data science at the Operations Research/Computer Science interfaces and for outstanding service to INFORMS, especially the INFORMS Computing Society.
Zuo-Jun (Max) Shen, University of California, Berkeley
For research contributions to supply chain management broadly and to inventory management and facility location specifically and to the education of exceptional graduate students.
Martin Shubik*, (1926-2018)
For outstanding and fundamental operations research contributions to game theory (including cooperative and experimental games); defense analysis; and the theory of money and financial institutions.
Jayashankar M. Swaminathan, University of North Carolina, Chapel Hill
For path-breaking research on novel operations management models and their implementation at commercial and non-profit organizations, and distinguished leadership and service contributions to the INFORMS community.
Luk N. Van Wassenhove, INSEAD
For outstanding contributions in research and education in operations management, and leadership in the fields of closed loop supply chains and humanitarian logistics.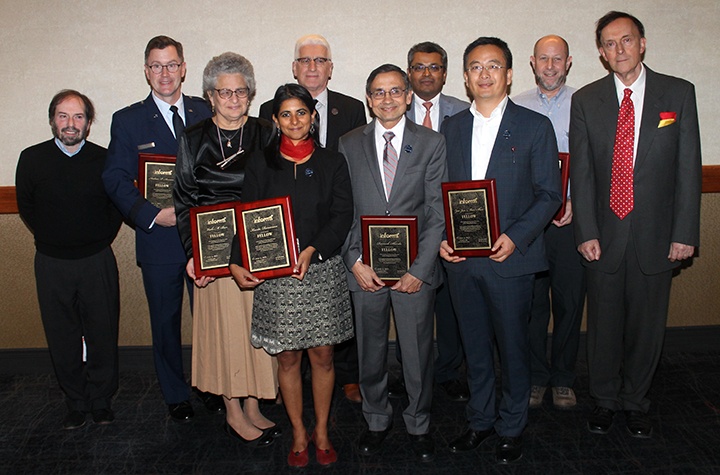 ---
---
Pro Bono Analytics
INFORMS Pro Bono Analytics has partnered with St. Mary's Food Bank Alliance, a food bank and distribution network, and coordinated a volunteering initiative for the INFORMS Annual Meeting attendees to build snack packs for Phoenix's homeless population, helping make a positive impact in our conference host city. This effort is made possible by the financial support of our members, sponsors and exhibitors, and conference community. Stop by the INFORMS Center to learn more!
---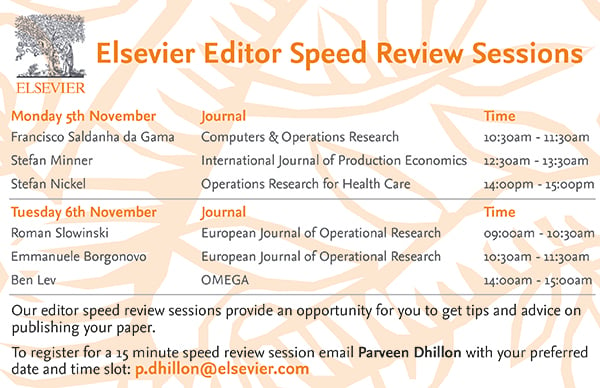 ---

Share Your Experience
Share your photos and video using #informs2018, and follow @INFORMS2018 on Twitter for official conference updates. This year INFORMS will be sharing from the meeting on Instagram and Snapchat at @INFORMS_ORMS for real-time conference videos and the INFORMS Phoenix Geofilter, which will be available in the Convention Center and Hyatt. Be sure to check out conference photos on the INFORMS Flickr account.

Join the Annual Meeting LinkedIn Group and the Annual Meeting Connect Group to virtually connect with fellow attendees and discuss key topics of the day.
---