---
Welcome from the INFORMS President
It is my pleasure to welcome all INFORMS members to our wonderful Annual Meeting in Phoenix. The local planning committee has done an outstanding job of bringing together all the professional and social activities and opportunities that make this meeting so great. We are expecting record attendance at the meeting. Based on the Advocacy program we have introduced this year, I feel confident in stating that the level of public awareness in our profession is at an all-time high!
Click here to read more.
---
Annual Meeting Daily eNews
Each morning of the Annual Meeting – Sunday through Wednesday – you will receive a copy of the Annual Meeting eNews Daily in your inbox, with links to special Annual Meeting coverage and helpful resources on the INFORMS Annual Meeting website. These daily updates will provide a recap of the previous day's activities and a preview of upcoming can't-miss events.
There will be links to each issue on the Annual Meeting website. If you have any questions or updates please contact Ashley Kilgore, Manager of Public Relations.
---
---
Need to Know for #informs2018
Click here for everything you need to know the moment you arrive in Phoenix, including hotel and transportation information, tips for presenters, registration locations and guidelines, the INFORMS Center, and much more.
Newcomer Tips
New to INFORMS or the Annual Meeting? Click here for helpful tips!
---

INFORMS podcast Resoundingly Human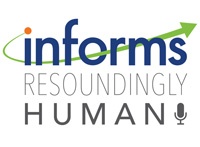 Before you begin your travel to the Annual Meeting, make sure to download issues of the new INFORMS podcast, Resoundingly Human, to listen to on your flight. The latest episode is available on OR/MS Today, and previous episodes can be downloaded from Stitcher, iTunes, and GooglePlay.
In addition, we will be recording special episodes of the podcast while in Phoenix, so stay tuned for additional exciting episodes next month!
---
---
Thank You to Our Sponsors!
Thank you to these organizations for their generous support!
Diamond PLUS Level Sponsors

Diamond Level Sponsors
Platinum Sponsors
Gold Sponsor

Silver Sponsors
Bronze Sponsors
Supporter

---
2018 INFORMS Annual Meeting Awards
2018 INFORMS Awards Ceremony & Dessert Reception

Sunday, November 4
8:30-9:45pm
Phoenix Convention Center, West 301C, 300 Level
Your MC for the evening:
2018 INFORMS President Nicholas G. Hall
Join us for dessert and coffee to celebrate the winners of several key INFORMS awards:
Bonder Scholarship for Applied Operations Research in Military Applications to promote the development and application of process modeling and operations research analysis to military issues
Bonder Scholarship for Applied Operations Research in Health Services to promote the development and application of process modeling and operations research analyses to healthcare design, delivery and operations
Saul Gass Expository Writing Award for an operations research/management scientist whose publications demonstrate a consistently high standard of expository writing
INFORMS Impact Award for widespread impact in the practice of operations research
John von Neumann Theory Prize for scholars who have made fundamental, sustained contributions to theory
George E. Kimball Medal in recognition of distinguished services to the Institute and to the profession of operations research and the management sciences
INFORMS President's Award for important contributions to the overall welfare of society
INFORMS Case Competition for the creation, dissemination, and classroom use of new, unpublished cases in operations research and the management sciences
Prize for the Teaching of OR/MS Practice for excellence in teaching the practice of OR/MS
Four special student awards:

Undergraduate Operations Research Prize
Doing Good with Good O.R. Student Competition
George B. Dantzig Dissertation Prize
George E. Nicholson Student Paper Competition
Student Chapter Awards & Reception
Monday, November 5
7:30-9:30pm
Hyatt Regency Phoenix, Regency Ballroom, 1st Floor
All students registered for the meeting are invited to attend the Student Awards Ceremony. The Chapters/Fora Committee will present the winners of the Student Chapter Annual Awards and the Judith Liebman Awards. Join us in recognizing the great contributions of our most dynamic student volunteers. Plan to stay for the Student Reception, which immediately follows the ceremony.
Judith Liebman Award in recognition of outstanding student volunteers who have been "moving spirits" in their universities, their student chapters, and the Institute
Student Chapter Annual Awards in recognition of performance and achievements of student chapters
Subdivision Awards
Throughout the Annual Meeting, the INFORMS subdivisions will be presenting their own awards, beginning the Saturday before the meeting. Click here for the full list of awards.
---
---
Check Out the Exciting Lineup of Sessions
Plenaries & Keynote Speakers
Click here to check out the exciting lineup of plenary and keynote speakers who will be addressing attendees at the Annual Meeting.
Interactive Poster Presentations
On Monday and Tuesday, Poster Sessions allow presenters to benefit from the interactive critique, suggestions, and encouragement from colleagues working in similar areas, with three prize winners selected each day. E-Poster Walk Sessions feature electronic versions of competition semi-finalist posters from 12:30-2:30pm on both Monday and Tuesday in the Phoenix Convention Center, North Exhibit Hall E, 300 level.
Each poster presenter will also have two Golden Tickets to share with attendees of their choosing who attend their poster presentation. Anyone who receives a ticket can turn it in at the INFORMS Center for a special prize drawing. Five swag bags will be given out on Monday and another five bags will be handed out on Tuesday.
New for 2018 - Flash Sessions
Tuesday, November 6
12:05pm
Phoenix Convention Center North, Room 231C
We invite you to come and join the audience in these stimulating rapid-fire sessions followed by Q&A's with each individual presenter at the end of the session. Click the links below to learn more about each session:
Flash Session I
Flash Session II
Flash Session III
Practitioner & Student Pages
New this year is a special webpage that collates sessions and events to help practitioners and students better navigate the Annual Meeting and attend sessions with the most impact for them. Click here to learn more about the Practitioner Page, and here to learn more about the Student Page.
Associate Certified Analytics Professional (aCAP)
Attention Students: The aCAP is a professional certification program designed to meet the needs of new analytics professionals. Come to the INFORMS Center in the Phoenix Convention Center, Hall E 300 to learn how the aCAP program can enhance your resume, increase professional credibility, demonstrates knowledge of analytics process and other benefits.
Introducing the newest Editor's Cut
Military O.R.: The Science of a Secure Nation
So many of the tools and techniques that are ubiquitous in the general practice of operations research (O.R.) come from Military Applications. The techniques originally developed in the context of military conflict have found additional applications in our everyday lives. For example, you have probably experienced its impact if you have flown on a commercial airplane or purchased goods from a major retail chain.
This volume of Editor's Cut provides a primer to those new to the field of military O.R., and establishes a touchstone of truly great, even classic, examples of military O.R. done right.
Please join the Military and Security Society on Monday at 6:15pm in the Phoenix Convention Center West, Room 106 to celebrate the launch! There will be cake!
---
---

INFORMS Career Fair & Interview Days
Career Fair Networking Meet & Greet
Sunday, November 4
12noon–5pm
Phoenix Convention Center, Exhibit Hall E, North Building
Job seekers don't miss Sunday's Career Fair where over 80 companies are expected to be recruiting.
At this one-day event attendees will be able to:
Gather materials and make vital connections
Meet one-on-one with representatives of top employers
Research the postings of the over 100 top employers
Drop off your resume if you are unable to connect in person
View the current job descriptions from the participating employers by logging into INFORMS Connect as a registered meeting attendee.
Attention Jobseekers: Don't miss your chance to interview!
Monday-Wednesday, November 5-7
9am–5pm (9am–3pm on Wednesday)
By Appointment Only
Meet at the Career Fair on Sunday (only) or contact employers prior to the conference to pre-schedule an interview. Check out the available jobs posted here.
---

Stay Up-to-Date with Daily Annual Meeting Coverage
Introducing the 2018 Student Writers
INFORMS is excited to introduce this year's student writers: Zalqarnain Haider of the University of South Florida, Victoria Chibuogu Nneji of Duke University, and Yeawon Yoo of Arizona State University. Each day, they will share their experience with coverage of the plenary and keynote speakers and other sessions.
Click here to learn more about this year's student writers.
Meet your Annual Meeting Bloggers
Be sure to frequently check the Annual Meeting website to read commentary from your peers about their experiences in Phoenix. Feel free to post your own comment! Confirmed guest bloggers for 2018 include:
Laura Albert
John Angelis
Sina Ansari
Aaron Burciaga, CAP
Allen Butler
Joseph Byrum
Jim Cochran
Walt DeGrange
Greg Doonan
Esma Gel
Warren Hearnes
Dave Hunt
Burcu Keskin
Gino Lim
Kayse Maass
Patricia Neri
Ranganath Nuggehalli, CAP
Paul Rubin
Matt Saltzman
Harrison Schramm, CAP
Thiago Serra
Bismark Singh
Frances Sneddon
Shivaram Subramanian
Aurelie Thiele
Tallys Yunes
---
---
---

---

INFORMS Communities & Subdivisions
Community Meetings
All are welcome to these meetings featuring business meetings, receptions, and networking sessions. For a complete listing, please click here.
Join a Community!
Whether you are a new or existing member of INFORMS, take some time while in Phoenix to sign up for a Community (also known as Subdivision) of your choice. There is no better way to maximize your membership and build your network. As a new 2018 or 2019 member, you qualify for one free Community! Click here to learn more.
---
---
Can't Miss Social Events
Member Meeting, Receptions, Awards and More!
Come meet and form lasting connections with your fellow attendees at several social events that will beheld during the meeting, including:
Welcome Reception


Sunday, November 4, 7:30-9:30pm


Phoenix Convention Center, North Exhibit Hall E, 300 Level


INFORMS and the Phoenix Organizing Committee welcome you to the 2018 INFORMS Annual Meeting with an evening of fellowship and fun. The Welcome Reception is the perfect venue to meet with colleagues and visit the exhibits.



Member Meeting & Reception
Tuesday, November 6, 6-7:15pm
Hyatt Regency Phoenix, Regency AB, First Floor
The INFORMS Board of Directors encourages all members to bring their ideas, opinions, and suggestions to this meeting. Current business and future direction for INFORMS will be discussed. Outstanding members will be celebrated with the presentation of the Volunteer Service Award. Come to mingle, network, and celebrate!

Come to mingle, network, and celebrate! Light snacks, soft drinks, bottled water, beer, and wine will be served.



General Reception
Tuesday, November 6, 7:30-10pm
Arizona Science Center
Join us at the Arizona Science Center for a fun reception in a very unique venue!
Click here to learn more about these and other exciting social events!
New Member Breakfast
Sunday, November 4
7-8am
Phoenix Convention Center, West 301C, 300 Level
New INFORMS members are invited to attend. The session will feature brief presentations on how to navigate the meeting and how to get the most from your membership. Representatives from INFORMS communities will host tables where you can meet other new members who share your professional interests. INFORMS veteran members will facilitate informal networking with discussion prompts. Enjoy coffee, tea, and continental breakfast. Click here to learn more.
Amazon Tours
Monday, November 5
9am and 11am
Amazon Phoenix Fulfillment Center
Amazon will offer two tours of one of their Phoenix Fulfillment Centers (PHX6) to illustrate how we store millions of products under one roof and get combinations of those items into a single box. Come see the magic that happens after you click "Buy!" We will provide transportation between the INFORMS conference center and PHX6. To request a spot, email 2018-INFORMS-FC-tours@amazon.com and indicate whether you can accommodate a 9:00 or 11:00 tour on Monday, 11/5. We have limited capacity and will select from responses received by 11/2 via lottery.
CAPs & Coffee
Tuesday, November 5
3:30-4:30pm
Hyatt Regency Phoenix, Cassidy Room
This delightful event connects Certified Analytics Professionals (CAPs) with each other to discuss the value of CAP, recommendations on how to promote your CAP, and recertification. Join us to network and connect with your CAP peers.

---

---

Pro Bono Analytics
INFORMS Pro Bono Analytics has partnered with St. Mary's Food Bank Alliance, a food bank and distribution network, and coordinated a volunteering initiative for the INFORMS Annual Meeting attendees to build snack packs for Phoenix's homeless population, helping make a positive impact in our conference host city. This effort is made possible by the financial support of our members, sponsors and exhibitors, and conference community.
We invite all Annual Meeting attendees to visit the INFORMS Center and volunteer a few minutes of their time to help build the snack packs that will be donated to St. Mary's Food Bank in support of their efforts. We hope that you take a moment to stop by, build a kit, and learn more about how Pro Bono Analytics is making an impact in underserved communities through analytics.
The Pro Bono Analytics Micro-Volunteering activity will be located at the INFORMS Center in the Phoenix Convention Center's Exhibit Hall: 300 Level, North Building, Exhibit Hall E.
Sunday, November 4, 12noon-5pm and 7-9:30pm
Monday, November 5, 9am-5pm
Tuesday, November 6, 9am-4pm
---
---
Share Your Experience
Share your photos and video using #informs2018, and follow @INFORMS2018 on Twitter for official conference updates. This year INFORMS will be sharing from the meeting on Instagram and Snapchat at @INFORMS_ORMS for real-time conference videos and the INFORMS Phoenix Geofilter, which will be available in the Convention Center and Hyatt. Be sure to check out conference photos on the INFORMS Flickr account.

Join the Annual Meeting LinkedIn Group and the Annual Meeting Connect Group to virtually connect with fellow attendees and discuss key topics of the day.
---