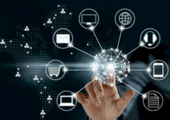 Alan Pelz-Sharpe in the VIP Lounge

Interested in learning more about the new Emerging Technologies in Information Management course?
Join the course developer for a 30-minute session to help you understand:
What the course covers
How it can be applied
If the course is a good fit for you
AIIM's Virtual VIP Louge sessions allow you to quickly understand and ask questions regarding new AIIM releases.

Make the most of your membership and join us in the VIP Lounge Thursday, June 28th, at 11am ET.

Save Your Seat.
Meet Soo Kang

An active community blogger, GDPR community expert, and fantastic guy--Soo Kang--is this month's member spotlight.
Soo has been active for years blogging in AIIM's community, this last year he helped launch the GDPR member community by sharing his knowledge and insights in our 'Ask an Expert' series. If you have not yet connected to Soo, do so now!
You can also find the GDPR 'Ask an Expert' series he participated in within the member GDPR library. If you missed these live sessions, definitely check out the recordings as they really provide on point, practical advice.

We sat down to talk with him this month to learn more about his work.
Overwhelmed & Over It

We're so excited to announce AIIM's next WIIM (Women in Information Management) Webinar.
In today's busy world where you are expected to multi-task in ways that even wonder woman couldn't handle, it's easy to fall into a hectic rhythm where your life begins to run you. Unable to push, hold it together or make it happen anymore, we are overworked, overwhelmed and over it!
Join best-selling author, Christine Arylo, as she addresses the impossible work/life balance, new approaches to professional and personal success, creating a daily practice, and more.
Open to all members! Join us Tuesday, June 19th, at 11am ET.