Could this Racoon Help You?

Short answer, no. But that's because he's not RIMI - The Records Raccoon.
Last month at AIIM18, we caught up with member, Joanna Hammerschmidt, RIM coordinator at WaterOne.
She shared about WaterOne's successful change management strategy which has engaged a lot more of their staff in thinking about and acting upon successful IM practices.

Their solution: a cute, cuddly raccoon.

How did they do it? Find out in the next Member VIP Lounge,
Thursday, May 17th, at 11am ET.

Save Your Seat.
Meet Laura Downey

Affectionately known as the TSA Lady at AIIM18, Laura made quite the impression in AIIM's Deep Learning/Machine Learning workshop and roundtables with her thoughtful insight and challenging questions.
As an industry professional with over 25 years of experience, she's well poised to share back her insight--look for her work in AIIM's WIIM community, emerging tech talk, and hopefully on stage at AIIM19!
Thinking of talking one of AIIM's Emerging Technology courses that are launching later this month?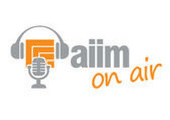 Your Next Podcast

What are you currently listening to? We recently saw that a member recommended AIIM on Air podcast, saying it was great even when working out:)
Can't attest to that--but if you're looking for industry insight, digital transformation stories, and next trends, Kevin Craine, host of AIIM on Air, does an amazing job telling our industry's story.
Coming up on 60 episodes and over 100,000 downloads, check it out during your next workout...or commute. Who knows, you may solve your own organizations digital transformation struggles.