Arria unveils its latest NLG breakthrough technology to target business intelligence (BI) dashboards
NEWS RELEASE: Arria is proud to announce the upcoming May 2018 release of Arria NLG Studio for BI: Articulate Intelligence for Dashboards.

Arria NLG Studio for BI empowers data professionals with the ability to incorporate insightful narrative summaries directly into their existing business intelligence (BI) dashboards. Watch the demo now >
"Approximately 183,000 companies currently use business intelligence dashboards." — iDataLabs

"By 2020, natural-language generation and artificial intelligence will be a standard feature of 90% of modern BI dashboards" — Gartner
Currently, the $15 billion BI analytics market provides software allowing businesses to analyze company data by turning raw data into tables, charts, maps, and other visualizations. While this is helpful, data visualizations still need to be interpreted and explained — and often, the visualizations fail to reveal critical information and insights hidden in the data. That's where Arria comes in!

NLG Studio for BI starts where visualizations stop.

Arria NLG Studio for BI complements visualizations and enhances dashboards by providing insightful narrative summaries and in-depth commentary. Unlike all other competing products, Arria NLG Studio for BI can narrate numerous data dimensions and values at once, across multiple visualizations in a dashboard. Arria's advanced NLG capabilities deliver compelling narratives you would believe were written by an industry expert. Watch the demo now >
"We believe Studio for BI will have a major impact on Arria's revenue this year. We are starting with three of the top BI dashboards: Power BI from Microsoft, Tableau, and Qlik Sense — but we plan to integrate with all leading BI dashboards over time. There are over 50,000 companies paying Tableau $1 billion per year to visualize their data. We believe the added value of being able to provide analysis and narration alongside visualizations will transform the dashboard as we know it. Early feedback from clients and partners has been extremely positive."
— Sharon Daniels, CEO, Arria
Evidence is clear, text summaries are more informative than visuals, although the best way to communicate data is using a combination of both.
Arria NLG Studio for BI makes this possible. See the comparison below.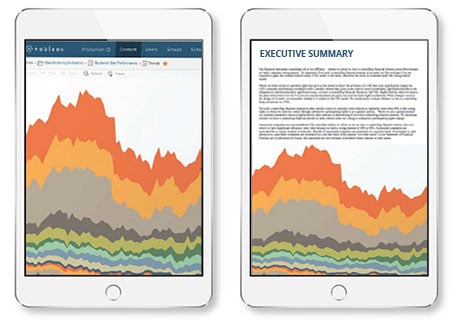 ---
Arria NLG
Arria NLG's core product is known as the Arria NLG Platform, a form of artificial intelligence software, specialised in extracting information from complex data sources and communicating that information in natural language (i.e. as if written by a human). The scientific foundation for the Arria NLG Platform is based on more than 35 years of research and development by the Arria Data2Text Founders at the University of Aberdeen. Arria NLG Studio is an easy-to-use advanced natural language generation (NLG) tool that empowers journalists, writers, analysts, data scientists, and developers alike to build their own NLG solutions.

See who's already using Studio >
For additional information, visit www.arria.com. Follow Arria NLG on Twitter,
LinkedIn, Facebook, and YouTube.