GDPR Member Community

Community Mission: If you interact with European Union citizens and process information about them then you need to know about General Data Protection Regulation (GDPR). There is lots of noise and many 'solutions' out there so where do you turn? AIIM is all about community, about people helping people. Find resources, practical ideas, examples and most of all connect with folk who have experiences to share. Ask questions, get informed and find answers. GDPR was created to protect the rights of individuals, it is all about people and respecting others. It is by no means the only relevant law so find out how it fits into your overall approach to data privacy and information governance. Most importantly, gain some insights into how to promote this in your organisation and get the executive support you will need. Find out about the benefits and positive impact it will have!
ECM Member Community

Community Mission: This online community will be a place where any organization – small or large, private or public, regardless of business climate or industry– can find resources on starting or improving an Enterprise Content Management (ECM) program. An ECM Program includes, but is not limited to: information governance, compliance, business process management, records management and control of all content systems in any given organization. The community will be open to ECM Professionals, Vendors and Consultants within the global IM community. This community will focus on ECM Systems, as opposed to more general information management concerns. This will be a place to share experiences and resources; pose and answer questions; offer advice and provide best practices.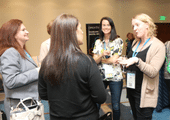 WIIM Member Community

WIIM's (Women in Information Management) purpose is to advance women in information management by providing leadership, mentoring, advocacy, networking, industry education, and professional development.
Following our first webinar of the year, Your Network is Your Power, AIIM is organizing volunteers to help lead this growing community.
If interested in helping lead WIIM's initiatives, please fill out your availability to meet the first week of March.
Regardless, watch for updates from this community!