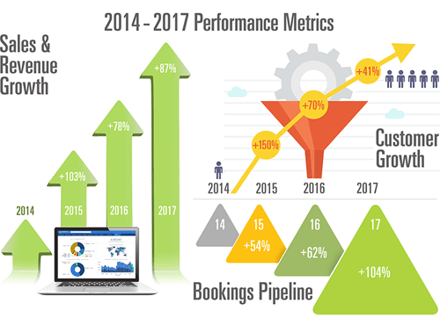 SmartFlow Announces Record Financials for 2017
SmartFlow has announced a fourth consecutive year of record sales for the 2017 fiscal year with revenues soaring 87 percent over 2016 and bookings pipeline growth of 104 percent. Growth was fueled by adding significant new customers in addition to contract renewals from existing clients.
This resounding success shows the market is embracing the firm's technology as an important means for combatting software piracy and insuring that intellectual property (IP) is used in accordance with the licensing terms.
"Our outstanding growth and rapidly expanding customer base are a testament to SmartFlow's commitment to developing cutting-edge software telemetry and forensics and delivering exceptional customer service," said Chris Luijten, SmartFlow CTO. "We are well positioned for continued growth and financial stability, enabling the company to invest heavily in R&D to enhance IP security, reduce the impact of malware and provide confidence in personal data compliance."