Enterprise 2017 With Configurable Data Collection Functionality for Compliance With GDPR
SmartFlow Enterprise 2017 now has the unique ability to configure the data collection functionality to help ensure compliance with the European General Data Protection Regulation (GDPR) coming on May 25, 2018.
GDPR makes major changes to all of Europe's privacy laws and enables regulators to fine noncompliant companies up to four percent of their global turnover or 20 million Euros, whichever is greater. You can't afford to not be in compliance!
CNN Declassified: The Inside Story of Catching a Cyberpirate
The CNN series Declassified: Untold Stories of American Spies is running a segment on the story of David Locke Hall's takedown of a $100 million Chinese software pirate. Hall wrote a guest blog for SmartFlow and was the keynote speaker at SmartFlow's 2016 Anti-Piracy Summit and a member of the anti-piracy panel at DAC 2017.
The show runs on Saturday nights and the segment, The Inside Story of Catching a Cyberpirate, is repeated regularly. The Q&A and video excerpts are also available on demand at cnn.com/shows/declassified.
Early Bird Pricing Ends Soon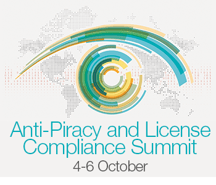 We're offering special early bird pricing of $395 for those who register before September 20th. After that, pricing will rise to $495. Request your invitation now. View complete agenda.