WFIC is Almost Here
FISD has announced the schedule for the 2017 World Financial Information Conference taking place September 24-27 in Barcelona. WFIC is the only global event that focuses exclusively on issues associated with dissemination, management and use of financial information.
Due to high demand, WFIC 2015 was only open to members and we expect to carry that policy forward for WFIC 2017. In order to attend, your membership must be active at least through September 27, 2017. Contact Tracey Shumpert for more information or to make sure you're eligible. WFIC is less than a year away, so now is the time to join FISD to ensure that you're eligible for the conference.

FISD Regular Members: $1,900 USD

FISD Consumer Firm Members: $500 USD
FISD Dues Scale to Increase by 5% on January 1, 2018
In June 2017, the Board of SIIA (FISD's parent organization) approved an across-the-board 5% increase in the SIIA dues scale. This dues increase is the first in approximately 20 years and will affect FISD members with membership terms ending December 31, 2017 and later. After consultation with the member leadership of the SIIA's divisions (including the FISD Executive Committee), the SIIA Board undertook these changes as part of a comprehensive package of expense cuts and revenue increases that will provide for the continued financial health of the SIIA and its divisions. The revised dues scale can be viewed here. FISD asks that you consider these changes as you plan your budgets for 2018 and beyond. While price increases are never popular, FISD management believes that this increase will enable FISD to maintain and increase its level of support for its members in an increasingly expensive environment. If you have any questions, or would like to discuss this, please contacts Tracey Shumpert.
Add Your FIA Certification to Your LinkedIn Profile
Make sure the world knows you're an FISD FIA. Click the button above (or navigate to your LinkedIn profile, click + and add a certification) then fill in the form as shown below using your pass date. Easy as that! Contact Hope Wilkes with questions.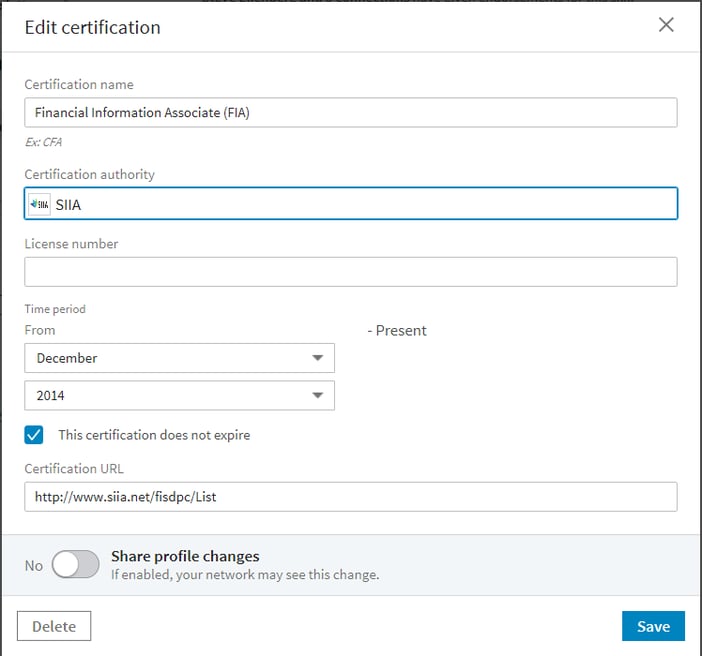 FISD Event Recap: Learning & Libations in New York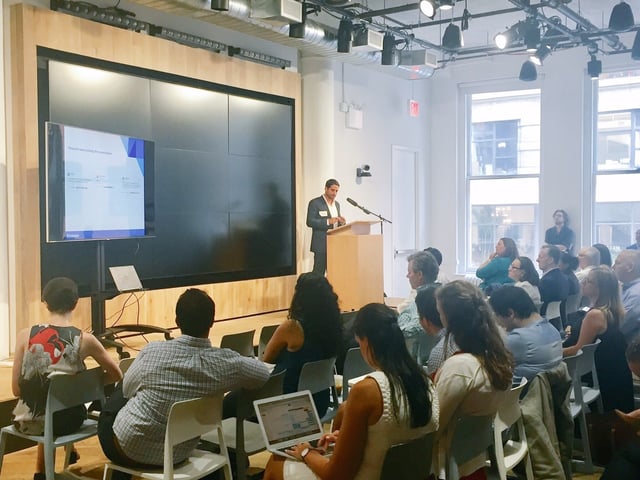 The New York FISD Learning & Libations event was held on Wednesday, July 19 at Think Rise New York. FISD Members and guests listened to Robert Mata from Dataminr and John Duncan from Meridian Research discuss How Tweets are Changing the Political Information Paradigm and How the Trumps Administration's Policies Impact the Markets. Following the event, guest were able to mix and mingle over food and refreshments.
Couldn't make it to this event? That's ok, this event was recorded by BrightTalk and is free for members and non-members to review. Click Here and enjoy!
Thank you to our co-hosts Rise New York and Startupbootcamp, as well as our sponsors and guest speakers Robert Mata from Dataminr and John Duncan from Meridian Research!
FEATURED EVENTS
Rising Stars London: October 19
Following a successful kickoff event in New York, FISD Rising Stars Happy Hour is scheduled to debut in London on October 19 at the LSE. Join us for a spirited discussion centered millennials. What are their core competencies? What does their unique perspective contribute to the financial information industry? How can millennials and their more senior colleagues form mutually beneficial mentoring relationships so current and future leaders can learn from each other? FISD members of all stripes are welcome, but we're especially eager to have some millennials in the room for this event that's all about them! If you're in a position to do so, invite your whole team and come along with them!

FISD is Coming to Beijing
FISD is pleased to announce that we will be hosting our first event in Beijing on September 7, 2017 at the Thomson Reuters office. FISD Beijing will address insights into quant trading: using aggregated data feeds managed by a distribution platform to power quant programs that generate orders to electronic trading platforms.
In addition to discussing the applications and interfaces that consume data and drive quant trading, representatives from various trading organisations will discuss the use of their trading data with order management applications providers to identify key structural issues necessary to build robust closed systems. We will also discuss regulatory and surveillance considerations for electronic trading environments.
Asia Pacific Financial Information Conference (APFIC)

FISD and Inside Market Data/Inside Reference Data are pleased to announce that the Asia Pacific Financial Information Conference (APFIC) will take place on November 13-15 in Hong Kong, an event that is promising to be a must-attend conference for you and your colleagues. The conference will be held at the Renaissance Hong Kong Harbour View Hotel.
APFIC is an excellent opportunity to increase the visibility of your products and services to a highly focused regional audience. Don't miss this opportunity to network with 400+ market data industry contacts. Staff from financial institutions that consume financial information attend for free. FISD members and Incisive subscribers from exchanges, vendor and technology provider firms receive a discounted rate.
For sponsorship package details, or to suggest a discussion topic for APFIC please contact Scott Cooper.

RECENTLY CONFIRMED FISD EVENTS:
Sept. 7 FISD Beijing
Oct 19: FISD Issue Brief in New York
Oct 19: FISD Rising Stars Happy Hour - London
To see a full list of our 2017 Events, Click Here

Share Your News in the FISD Newsletter
Members can have their press releases, events, white papers, blogs, news articles, and job postings featured in the FISD Newsletter. Delivered monthly to thousands of financial information professionals, the newsletter is a great place to spread your news. Email relevant material to Michael Zingali with the subject line "FISD Newsletter Submission.
---
FISD WORKING GROUPS
Consumer Index Group
Contact: Nick Merritt +1 202-789-4441

Consumer Constituent U.S. Exchange Data Sub-Group
Contact: Tom Davin +1 202-789-4465

Business Issues Policies and Practices Standards (BIPPS) Working Group
Contact: Tom Davin +1 202-789-4465

Service Level & Communications Working Group
Contact: Nick Merritt +1 202-789-4441

MIFID II Reference Data Working Group
Contact: David Anderson +44(0)1825791382

FISD CONSTITUENT GROUPS
*All constituent group meetings are invitation only
Consumers Contact: Tom Davin +1 202-789-4465
Exchanges Contact: David Anderson+44(0)1825791382
Data Vendors Contact: Nick Merritt +1 (202)789-4441
---
STAFF SCHEDULES
Tom Davin (DC Office):
Barcelona: September 23-27
New York: October 18-20

Nick Merritt (DC Office):
Barcelona: September 23-27
New York: October 19
Toronto: November 14

David Anderson (UK Office):
Barcelona: September 23-27
London: October 18-19

Anika King (DC Office):
Barcelona: September 23-27

Tracey Shumpert (NYC Office):
Barcelona: September 23-27
New York: October 19

Hope Wilkes (DC Office):
Barcelona: September 23-27
London: October 18-19

Michael Zingali (DC Office):
Barcelona: September 23-27
New York: October 19