One of the most effective places for POP displays is the countertop. While countertop space is generally considered premium space in a retail store, if you can get it, it can be a very effective location to merchandise your product. Getting countertop space near the cash register is a home run since checkout areas get the highest amount of traffic in most stores.


Countertop space is not right for every product, but for smaller products and impulse items, it's often a great solution. This is the first in a multi-part series on countertop POP displays. Our objective is simply to share numerous types of countertop displays to provide merchandising ideas that we have found to work.

Our first example is an incense display. We created a 2-tier structure using a combination of prefinished birch plywood and wire fencing/dividers. We added a die cut front sign at the bottom to keep the height of the display to a minimum.




Our second example is an acrylic display for Fenix Flashlights. We used black acrylic which we heat bent in an "A" shape. We incorporated clear acrylic shelves and added a screen-printed logo on the front. This display could sit on a countertop, but in most cases, it would go in a locking case display.



Our third example is a countertop display we designed for 180s. The display has a branded white acrylic base, white back panel, rear red acrylic accent panel, info graphic to explain their Quantum Cool Technology, and hooks to hold product.




The Crunk Energy Drink display shown below is a good example of an interesting cost-effective countertop display for the energy drink market. This gravity-fed design is constructed of wire and features a branding plate which is really all the display needs to promote the brand.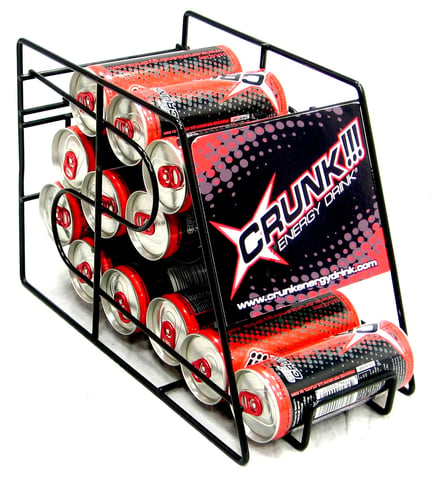 Our next example is a tactical lights/lasers displayglorifier. We designed an acrylic base with slots for interest. We built in small product stands to hold 2 products and then added a removable, die-cut PVC header graphic.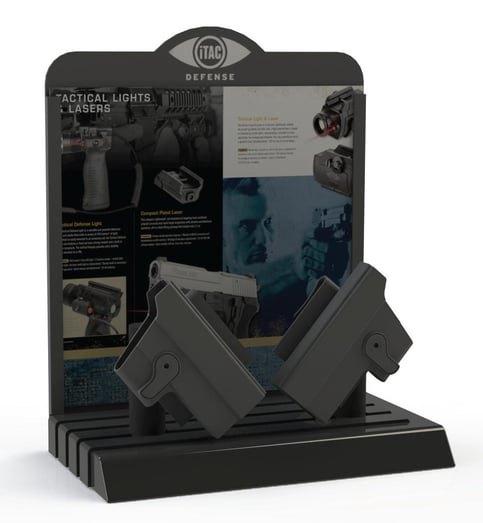 The cable railing display shown below was designed with a very low budget in mind. The objective was simply to show our customer's cable railing product and promote the brand. Note that there is no text describing the features and benefits of the cable railing. Sometimes it is better to keep it clean and let the product do the talking. This display was constructed of digitally printed PVC with a mounted piece of cable railing.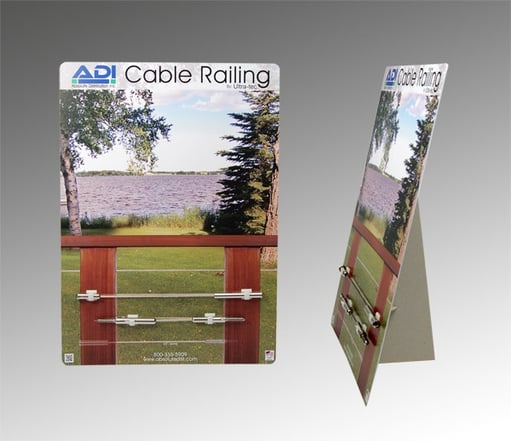 The Survivor Catalyst display shown below is a good example of the benefit of demonstrating the key value of a product. We created a simple PVC structure with an overlaid printed graphic and hooks to hold product. The main feature of the display was an acrylic cylinder which we filled with water. We dropped in the Survivor cell phone case and sealed the cylinder. The design proved to be a good way to demonstrate the product in a visually convincing way.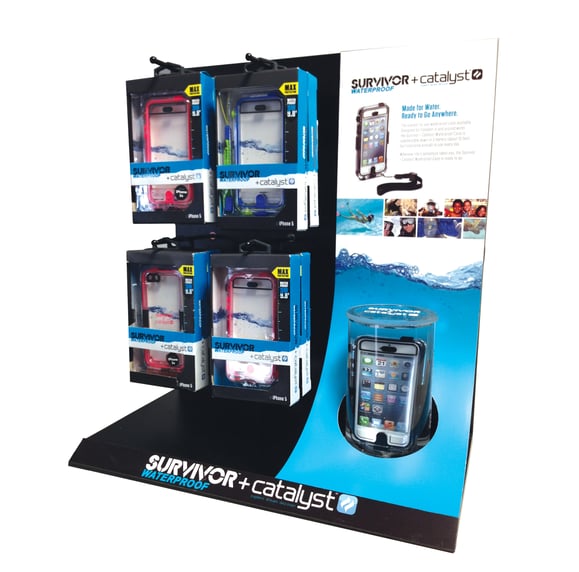 Our next example is similar to the above waterproof cell phone case display, but the budget did not permit a real demo. We ended up using the same basic construction as the above display with a PVC base and back panel with a digitally printed graphic of a marine life scene. We mounted the underwater camera case in the center of the back panel and included just enough text to get the message across. Admittedly, this display is less impactful than the above display, but it is simple and affordable.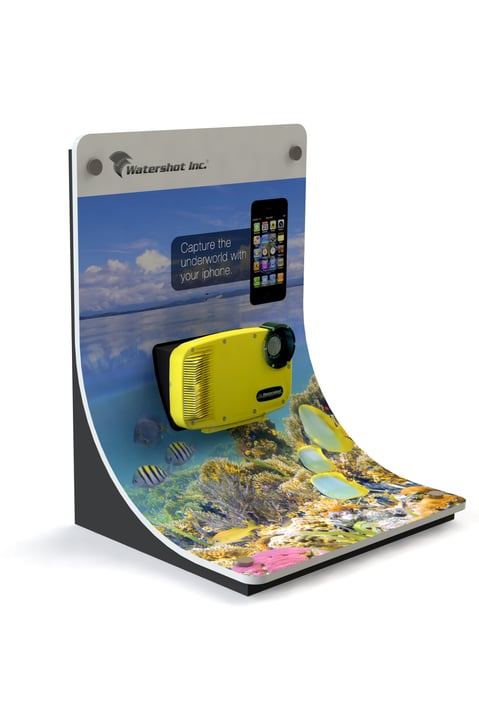 Next, the AKG headphone display was designed to be a live demonstration station. The display was designed to enable customers to plug in their mobile phone and listen to their own music through the AKG demo headphones. We utilized an acrylic design with screen-printed graphics, a sheet metal accent plate, and a digitally printed info card.




Our final example today is a locking case we designed and manufactured for Blue Rhino licensed lighters. We used sheet metal and tube construction, incorporated wire pockets to hold boxed product, added a clear acrylic locking door with PVC side and header graphics.




Tune in to our next blog to see more examples of countertop displays that can be adapted to merchandise a wide range of products.