Channel Maven Update
VP of Channel Strategy
Vendors used to dictate most of their Partner Program elements. The pendulum has now swung to the other side thanks to an abundance of new technologies, self-serve information, and Vendor options.
Successful Vendors craft Partner Programs around a value proposition that entices Partners in today's changing market and aligns with their goals.
Today's Partners are focused on customer relationships. They look to your programs to make those relationships successful. What resonates most with Partners when they're vetting programs? Simplicity. The easier you make it for them to succeed, the better.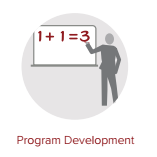 Simplicity with your Partner Program often means paring down. For example, when it comes to content, focus on quality, not quantity. Partners are bombarded with program communications. Vendors can rise above the noise by spending less time conveying program requirements and more time explaining how your program drives demand.
Look at training, education, and sales and marketing enablement. Are they digestible? Does each piece fit with your Partners' business models? Is the value recognizable to the Partner?
Strong Partner Programs make things simple for the Vendor, too. Each Partner is unique. There's no one, cookie-cutter approach.
Building flexibility into your program is key. The Channel is constantly evolving; a little wiggle room gives Partners that flexibility they need while using your solutions as a platform for growth.