Well well well.......It's that time of year when you are looking around at your facility and wondering, what can be done about some of those drab lookin' walls around here?? We have just the idea for you, wall murals!. I'm talking about the kind that go on the inside of course, but we can also do them outside under the right conditions, but we'll save that for another day. Let's look further into this and take a look at some factors to consider.
The biggest item to consider is the image that will be used. If you plan to use a photo with continuous tones, keep in mind that we will need one that can be blown up to the size of the wall under consideration without turning into a fuzzy mess. We may still end up with some pixalization, but it may be fine for the eyes when viewed from across the room. The files we have used for large walls have been on the order of 4200 x 2900 pixels with a file size of 65 Mb's. Some times it works some times it does not depending on the content. The best reproduction is 125 dpi at the size that will be printed so 15' foot wide x 8' high. We usually need to down load something from a reputable photography web site ro have a very good photographer help out. Bottom line is, the image has to be large enough to be expanded to the size we will print in order to maintain detail.

Wall finish is another factor to consider. We require a finished smooth wall, there cannot be any debris on it or else it will show through the vinyl once applied. Be sure walls are sanded and smoothed before primer and painting. If the wall will be new or getting repaired, allow several days for thorough dry time. Some require as much as 30 days, some do not. It should be tested before installation to be sure there are no problems.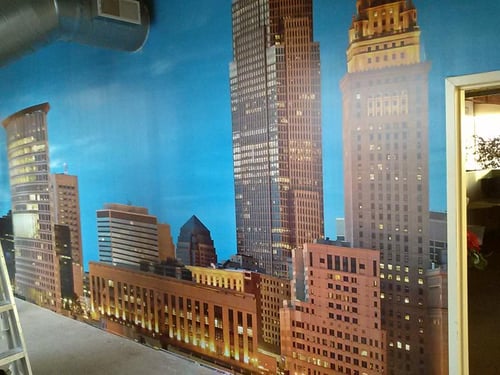 Cleanliness is key for great looking wall mural. If there is going to be other work in the area, be sure the area is blocked off by curtains to avoid dirt and dust settling on the walls. Once that happens, the adhesive will not adhere and it will peel off.
Most of all, be sure to call a professional sign company for a standout wall mural. It takes planning and guidance to make your wall graphics look great and we can help you with the process from design to installation. Call today for a free consultation.