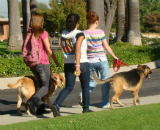 We are proud to provide an update about a young lady in our care who we've named Bethany and who we wrote about in a letter mailed last December. We welcomed Bethany to our Rosemead campus in 2013 as she was in desperate need of hope, love and healing. She had been moved from facility to facility and was even placed in juvenile hall after other agencies had given up on Bethany, leaving the county with few alternatives.
When Maryvale was contacted about Bethany, one of the most traumatized young ladies we have ever encountered, our team told the county we would give Bethany a home — and if she ran away, we would welcome her back. Nothing she could do would keep us from accepting her, showing her love and instilling in her hope for a brighter future.
Update: As you can imagine, it hasn't been easy. Bethany has deep scars that have required twenty-four hour intensive care. Until recently, Bethany required one-to-one care, which is extremely unusual. But our staff has even deeper compassion, and we're totally committed to bring God's healing love to Bethany.
The county is surprised at and grateful for the new levels of healing Bethany has realized since arriving. Today, Bethany no longer requires one-to-one support and has received a 4.0 for each of her last two semesters in school. While she is several grade levels below her peers, her success is remarkable considering her most challenging circumstances. She will be graduating soon, will move to a transitional housing program that can provide her the level of support she needs, and she plans to attend Community College.
At Maryvale, our programs continue to make life-changing differences in the lives of the children and families we serve — and we know the only way it is possible for us to continue to impact their lives, every day, all year long is through the support of individuals, companies and foundations who continue to invest in our Mission and work, so thank you for your continued support!