Hi there,
I hope you are staying healthy and enjoying your summer.
Today's strategy is actually a follow up from a strategy email I shared 2 months ago.
The strategy was/is:
Personalize campaigns across the entire website funnel, especially when leading with some type of promotion.
Here's the data:
100% confidence @ 4-9% modeled RPV lift with statistically significant data.

I show exactly how this works in the video below.
The cliff notes:
If you are driving large amts of traffic to a landing page leading with an offer (like this)...
...display that offer across each subsequent page => like the collection, product, cart page
You can set this up with an easy multi-step funnel in most testing platforms, including G Optimize
Why? Once the user proceeds then your offer is broken..and likely forgotten. Keep the offer front and center to prevent the "what was that deal they were offering me when I first hit the website?"
You can get creative with controlling the campaign by triggering based on utm params, cookies set via GTM, etc.
Take a look a the vid for more details: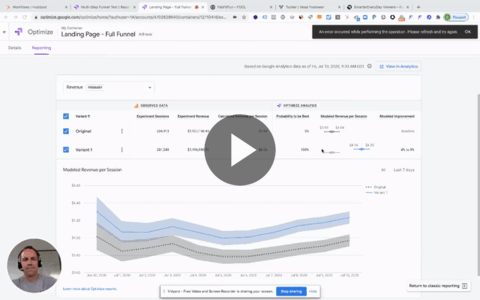 Even if not relevant for today - this will be super relevant come Q4!
Have a great weekend and as always thank you for being such a loyal customer. We are so thankful for your business.
Brad & Elevar team
PS if you're new to this email and want any of our previous "strategy of week" emails let me know!