Throughout our brief history, Americans have always loved big - our vast early frontiers giving way to skyscrapers, Continentals and Cadillacs, mega mansions, super-sized meals and the like.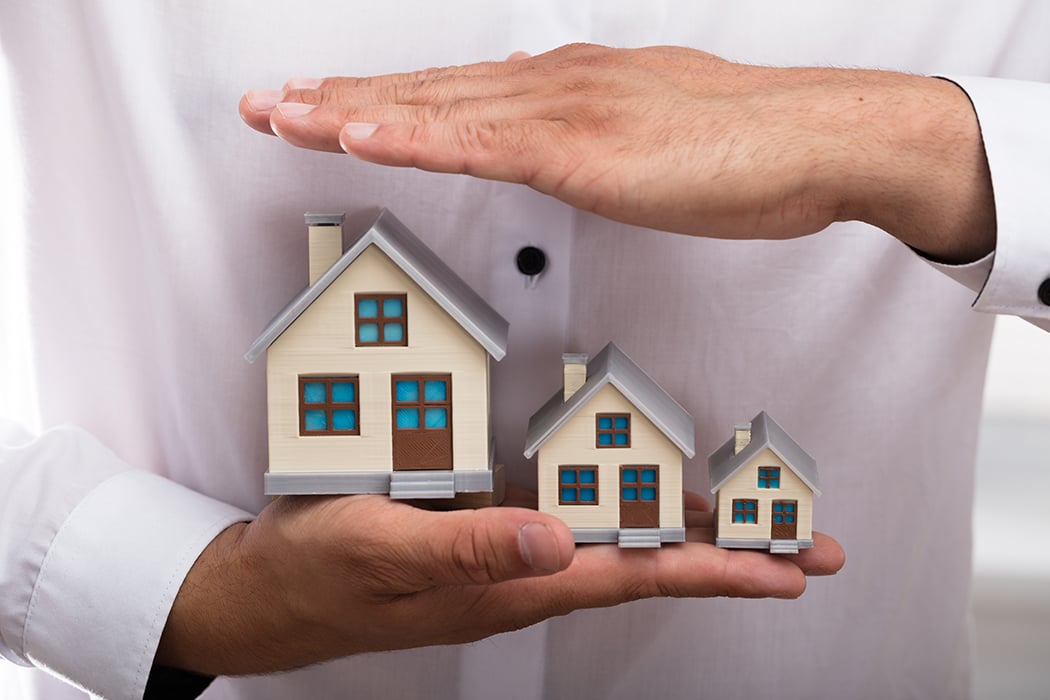 But it's impossible to ignore that a downsizing trend has taken root around the country in the last few years. From Marie Kondo's unexpected best seller, The Life Changing Magic of Tidying Up, to multiple TV shows and podcasts about the tiny home trend, the 'minimalist' lifestyle has definitely struck a chord.
The trend has touched almost every aspect of the U.S. residential market. The National Association of Home Builders notes that data shows that the square footage of new home builds has dropped for the third consecutive year. Realtor.com notes that the practice of dividing homes into townhouses in cities like Boston, Philadelphia and other urban areas around the country continues unabated.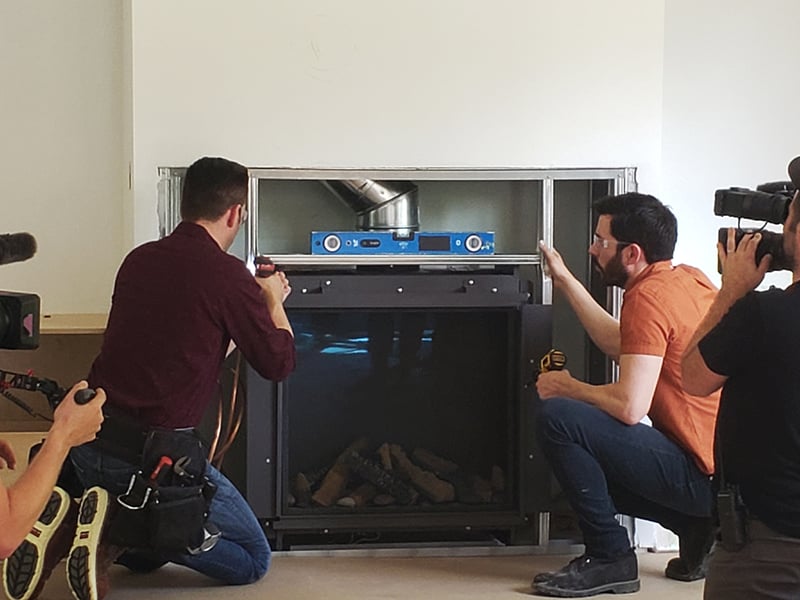 The Scott Brothers Jonathan and Drew chose the compact Modore 75H when renovating a home for best friend of celebrity Viola Davis.
Need help finding the right fireplace for your small space?
Even far-flung rural communities are jumping on the downsizing bandwagon. Spur, Texas, a town of 1,000 on the West Texas prairie, signed a resolution declaring itself the country's first tiny house friendly town. It wasn't just a PR move either. The town says it's sold 70 lots as a result to attract new residents.
"What's expendable, what's too valuable to do without."
Observers will point out that this overall trend is not driven by any one particular reason. For every Millennial or Gen Z who wants to turn their back on excessive consumerism and live simply, there's two Baby Boomers or Gen Xers who are on the verge of retiring or just became empty nesters and want to downsize.
Whatever the reason, their decision to do so means doing more with less and having less space to do it. It's choosing what to keep, what to leave behind, what's expendable, what's too valuable to do without.
Happily for us, this is the same approach we've taken since day one in designing our contemporary gas and electric fireplaces and working with our European partners. Our minimalist aesthetic - clean, unadorned lines that frame the beauty of the fire like the horizon does a sunset - is in perfect harmony with this 'less is more' movement.
We know from our years of designing and building modern gas fireplaces that having a fireplace remains important to homeowners, no matter how big or small their living space. In fact, fireplaces continue to rank near the top of surveys of what fixtures home buyers covet when looking for a new home or remodeling an existing one.
Knowing that, we've addressed that need by designing many of our contemporary fireplaces to fit into scaled-down living spaces. They're not only smaller in physical dimension, but equipped with efficient gas burners with generous turn-down ratios to deliver the right amount of heat for the space and season.

LEFT: The G Series Customizable Burner. RIGHT: Gas Stones vent-free
As varied and multi-functional as our modern gas fireplace lines are, we recognize that today's housing needs require a wider range of options than ever before.
For example, if there are physical limitations that prevent venting, we offer our G Series customizable vent-free burner. If there's an existing wood burning fireplace, our gas stone sets provide a simple and elegant option.
Our Evonic Fires line of electric fireplaces provide a groundbreaking flame pictures and one log set standard.
The Compton 2 is our smallest and easiest fireplace to install. Just hang up and plug in!
Check out our full line of
And finally, If the interior space is limited and an outdoor living space is available, we have a full line of modern outdoor fireplaces, providing the same incredibly natural flame picture and Ceramic Logs or Fire Glass as our interior fireplaces.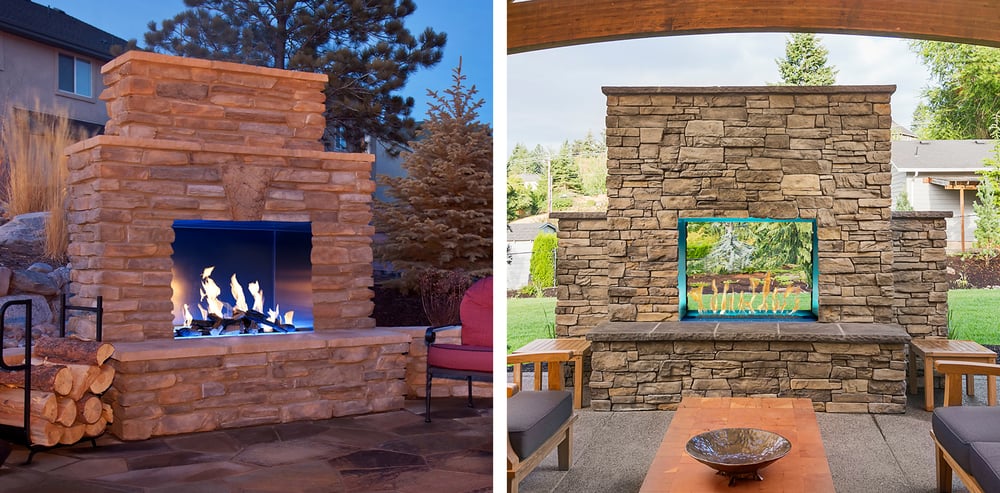 The J Series 40H outdoor fireplace by European Home is available in Single-Sided and See-Through.
As important as it is to us to help educate consumers about these choices, we recognize that it's equally important to help architects, interior designers and other building professionals wade through a sea of information (unfortunately, not always accurate) and make informed decisions to benefit their clients.
"The best things often come in small packages."
They are, after all, the professionals on the front line of the downsizing frontier. As industry websites like ArchDaily, Dwell, and architecture2b are happy to remind them with a never ending stream of articles, the world is changing rapidly and living spaces with it.
The pace of these changes is dizzying. As partners with the industry, we recognize the challenges building professionals face. That is why we're constantly evaluating how we can provide the best, most easily accessible and digestible information about our array of products to the building community.
The E40 3-Sided Electric Fireplace
Our website's Design Professional Resources page delivers concise product information, with links to ARCAT listings for every product. In them, professionals can find BIM, CAD and LEED files, as well as relevant catalogs and videos.
We also offer AIA CEU credits, design professional FAQ's, downloadable 3-part specs, our European Home Interior Design 'Look Book' and a host of other resources.
Need help finding the right fireplace for your small space?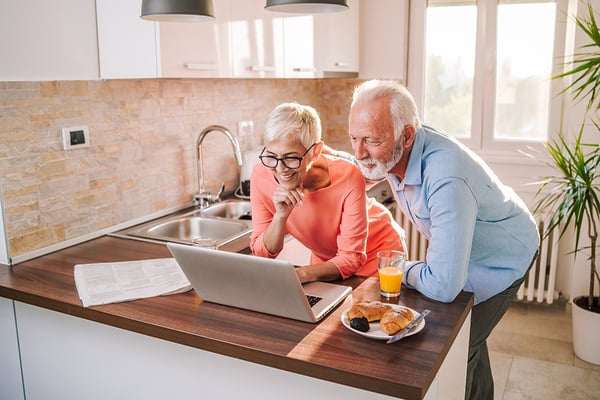 Our intention is to help consumers and building professionals understand that they don't have to settle for less when they're considering a fireplace option for any space, large or small. As the saying goes, the best things often come in small packages!