What's Next? NGen's Thought Leadership Series

Next Generation Manufacturing Canada (NGen) will be hosting an ongoing series of thought provoking and informative webinars in NGen's 'What's Next Thought Leadership Series.' All NGen members are invited to join these free-of-charge monthly sessions which will cover themes associated with Advanced Manufacturing Technologies, Business Excellence in Manufacturing and Successful Models for Innovation in Manufacturing.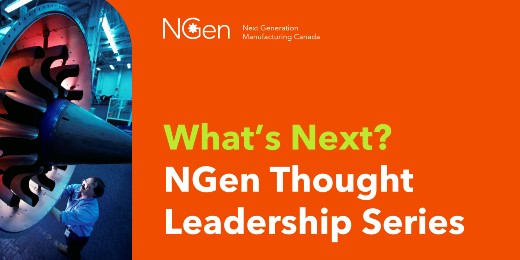 Overcoming COVID-19
Join us live on Thursday June 18th at 10:00 am EST for a deep dive into understanding how we will overcome COVID-19, and what the coming months and years may look like while living amidst a pandemic. We will be joined by the esteemed Jo Kennelly, PhD and Dr. Anand Kumar who will share insights from their work and research in dealing with infectious disease control.Specifically Jo and Dr. Kumar will discuss:
• What we can expect in the coming months as the pandemic continues to spread.
• What are the fundamentals of pandemic control /outbreak management?
• What challenges are likely to exist in the workplace?
• How can we minimize infection risks in the workplace?
• What tools are available to assist CEOs and Manufacturing Leaders?
---
Minister Bains Taps NGen Board Member and President of AVIT Manufacturing, Rhonda Barnet to Represent the Advanced Manufacturing Sector on Industry Strategy Council
The Government of Canada recognizes that a smooth economic recovery will require continued collaboration between the public and private sectors in the wake of the direct effects, changes and adaptations related to COVID-19. That is why we have convened a high-calibre panel of business leaders to share their direct perspectives on the scope of the challenges that Canadian industries face.
The Honourable Navdeep Bains, Minister of Innovation, Science and Industry, announced the names of nine business leaders who will join Monique Leroux—a strong business leader with a distinguished career in Canadian finance—on the new and recently announced Industry Strategy Council. Read more_>

Le ministre Bains annonce la nomination de Rhonda Barnet, membre du conseil d'administration de NGen et présidente d'AVIT Manufacturing au Conseil sur la stratégie industrielle
Le gouvernement du Canada reconnaît que, pour assurer une reprise économique soutenue dans le contexte de la COVID-19, les secteurs public et privé devront faire preuve d'une collaboration soutenue. La pandémie a des conséquences directes, entraîne des changements et nécessite des adaptations. C'est pourquoi le gouvernement a réuni un éventail de dirigeants d'affaires chevronnés qui fourniront directement leurs points de vue quant à l'étendue des défis qui attendent les industries canadiennes.

Le ministre de l'Innovation, des Sciences et de l'Industrie, l'honorable Navdeep Bains, a dévoilé l'identité des neuf dirigeants d'affaires qui siégeront aux côtés de Monique Leroux – une femme d'affaires remarquable ayant mené une carrière distinguée dans le domaine des finances au Canada – au nouveau Conseil sur la stratégie industrielle, dont la création a été annoncée récemment. Lire la suite_>