ACT Research released the May installment of the ACT Freight Forecast, U.S. Rate and Volume OUTLOOK report. This monthly 56-page ACT Freight Forecast report provides three-year forecasts for volumes and contract rates for the truckload, less-than-truckload and intermodal sectors of the transportation industry. For the truckload spot market, the report forecasts rates for the next 12-15 months. The Freight Forecast provides unmatched detail on the future of freight rates, helping companies across the supply chain plan their business with greater visibility and less uncertainty.
Tim Denoyer, ACT Research's Vice President and Senior Analyst, said, "Massive economic pressure will weigh on freight volumes for a long time, excess capacity is still material, and the mid-term outlook remains very uncertain. On a seasonally adjusted basis, container imports fell 20% in the two months from January to March, and similar declines on a year-over-year basis will likely be with us at least into the summer."
"However, we think these factors are largely reflected in current depressed truckload spot rates, which have fallen about 20% since March. We doubt this will mark the bottom, but with new dynamics of significantly lower supply and incrementally improving demand, we think rates are close to bottom with at least seasonal improvement likely in the near-term."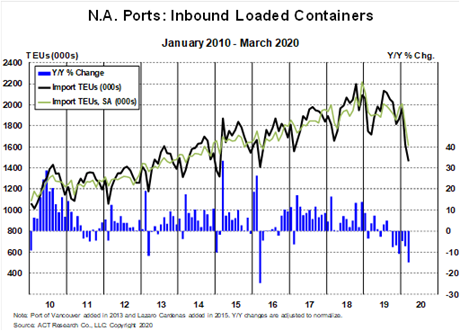 He continued, "Manufacturing and construction, two crucial freight generating sectors, will be the first to reopen under many states' plans. The reopening will be tentative, as some manufacturers will restart at half-staff for social distancing and many will direct previously productive time each day for cleaning. So, capacity utilization will be painfully low for some time, and the reopening will also be incredibly fragile, as additional waves of the virus are likely to cause additional shutdowns."
He concluded, "Beyond the near-term, we are not forecasting a straight line up, but we see a bottoming process beginning that will eventually lead to better days for carriers."
ACT Research is recognized as the leading publisher of commercial vehicle truck, trailer, and bus industry data, market analysis and forecasts for the North America and China markets. ACT's analytical services are used by all major North American truck and trailer manufacturers and their suppliers, as well as banking and investment companies. ACT Research is a contributor to the Blue Chip Economic Indicators and a member of the Wall Street Journal Economic Forecast Panel. ACT Research executives have received peer recognition, including election to the Board of Directors of the National Association for Business Economics, appointment as Consulting Economist to the National Private Truck Council, and the Lawrence R. Klein Award for Blue Chip Economic Indicators' Most Accurate Economic Forecast over a four-year period. ACT Research senior staff members have earned accolades including Chicago Federal Reserve Automotive Outlook Symposium Best Overall Forecast, Wall Street Journal Top Economic Outlook, and USA Today Top 10 Economic Forecasters. More information can be found at www.actresearch.net.

ACT's 63rd seminar is scheduled for August 11-13, 2020. Focused on the road to recovery from the COVID-19 pandemic, the event will feature dealer, alternative power, and economic panels, as well as discussions on near-term demand of North American commercial vehicle markets and the pending impact of alternative power on the market in the near future. Both in-person and livestream options are available for those who wish to participate. Click here for seminar information.
Click below to:
Learn more information about ACT's Freight Forecast, U.S. Rate and Volume OUTLOOK, please click here.
Get information about ACT's freight-related databases.
Access April's Freight Forecast Press Release.