Update: NGen Launches Innovative Solutions to Fight COVID-19
NGen announced it has invested more than $21 million in projects that will lead to the production in Canada of critically needed technologies, equipment, and medical devices to aid in the fight against COVID-19.
Since NGen announced its COVID-19 funding program in late March, it has received over 900 expressions of interest from advanced manufacturing companies across Canada. The projects approved so far include the development and manufacturing of ventilators and components, test kits, face shields, and a coating material that kills bacteria and viruses on contact.
NGen worked closely with the Ministry of Innovation, Science and Economic Development, Canada's National Research Council, Health Canada, and the Public Health Agency of Canada to prioritize projects for funding that will deliver the most immediate benefits to Canadians. Read more_>
Mise à jour: NGen lance des solutions innovantes pour lutter contre le COVID-19
NGen a annoncé qu'elle a investi plus de 21 millions de dollars dans des projets qui rendront possible la production au Canada des technologies, de l'équipement et des dispositifs médicaux essentiels pour lutter contre la COVID-19.
Depuis que NGen a annoncé son programme de financement lié à la COVID-19 à la fin du mois de mars, l'organisme a reçu plus de 900 manifestations d'intérêt de la part d'entreprises de fabrication de pointe de diverses régions du Canada. Les projets approuvés à ce jour portent entre autres sur la conception et la fabrication de respirateurs et de leurs composantes, de trousses de dépistage, de visières et d'un matériau de revêtement qui tue les bactéries et les virus au contact.
NGen a travaillé en étroite collaboration avec le ministère de l'Innovation, des Sciences et du Développement économique, le Conseil national de recherches du Canada, Santé Canada et l'Agence de santé publique du Canada afin de classer par ordre de priorité les projets à financer qui apporteront les avantages les plus immédiats aux Canadiens. Lire la suite_>
---
NGen on the East Coast
On Monday, April 20, NGen CEO, Jayson Myers joined Springboard Atlantic CEO, Daryl Genge for a live video interview hosted by Atlantic Business Magazine.
NGen sur la côte Est
Le lundi 20 avril, le PDG de NGen, Jason Myers, a rejoint le PDG de Springboard Atlantic, Daryl Genge pour une interview vidéo en direct animée par Atlantic Business Magazine.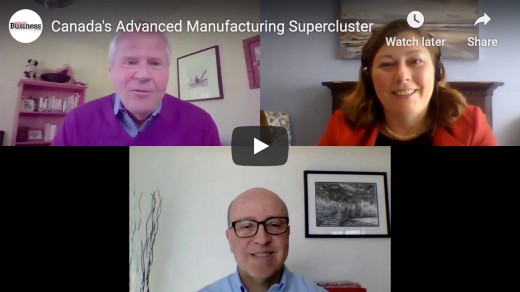 Click here to view the full interview and learn more about NGen's presence and future plans in Atlantic Canada.

Cliquez ici pour accéder à l'interview complète et en savoir plus sur la présence de NGen et ses projets futurs dans la région de l'Atlantique.
---
U of G Research Behind Surface Coating That Kills COVID-19 Virus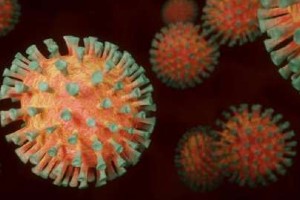 A surface coating that kills viruses upon contact, like the COVID-19-causing coronavirus, and that lasts for weeks is based on innovation developed by the University of Guelph and Guelph-based company EnvisionSQ. This self-sterilizing nano-coating, called NanoCleanSQ, is among the latest Canadian technologies to receive funding from the government's Next Generation Manufacturing Canada (NGen) program. Read more_>