Integrated Design Customer Newsletter
Hi there,
Our Commitment to our Customers During the COVID-19 Crisis
As we continue to monitor and respond to the evolving situation with COVID-19, our commitment and resolve has not wavered. We remain focused on providing continuity of services to our clients and partner, while also protecting our employees as we work from home in the Ann Arbor, Michigan area. We will continue to provide COVID-19 Updates in IDI Resource Center.
We appreciate your business and hope you, your families, and your companies remain safe and healthy.
Customer Service Tips
Have new pay codes related to COVID-19?
We're helping some of our clients add COVID-19 related pay codes, and we encourage you to reach out to our Support Team before making changes like that as it does affect mappings in our product.
Running payroll from home?
Trying to set up new users?
We will continue to build out self-help articles in our knowledge base to assist you, but if you need direct assistance, our Support Team members are here to help. You can contact them directly at support@idesign.com, or call 866-846-3226, #2. Someone answers the phone from 8:30 AM to 5:30 PM Eastern time, M-F.
Be assured we are all here to help!
Account Management Team
Our newest Account Manger, Julie Johnson, deserves a gold star for training remotely and knocking it out of the park!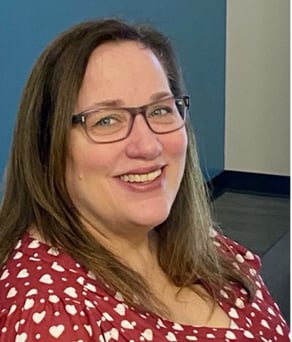 She is in the process of being introduced to those of you who she will be managing.
If you haven't already, check out What can I expect from my IDI Account Manager? in IDI Resource Center. There is an Account Update Form provided there if the primary contact information at your company changes.
If you have any questions about your account, you can reach out to us by replying to this email. We are all available to answer questions and assist you!
Stay Connected
A "twist" on our Customer Spotlight of the Month
Because we believe HR/Payroll professionals deserve more love and recognition, we have had a monthly practice of honoring one of our hard-working customers by featuring them in our Customer Spotlight section of this Newsletter. However, given the current crisis across our nation, we'd like to honor you in a slightly different way. In an attempt to spread positivity and encouragement, on our social media channels we have started spotlighting our own IDI employees' achievements as they adapt to temporarily working entirely from home.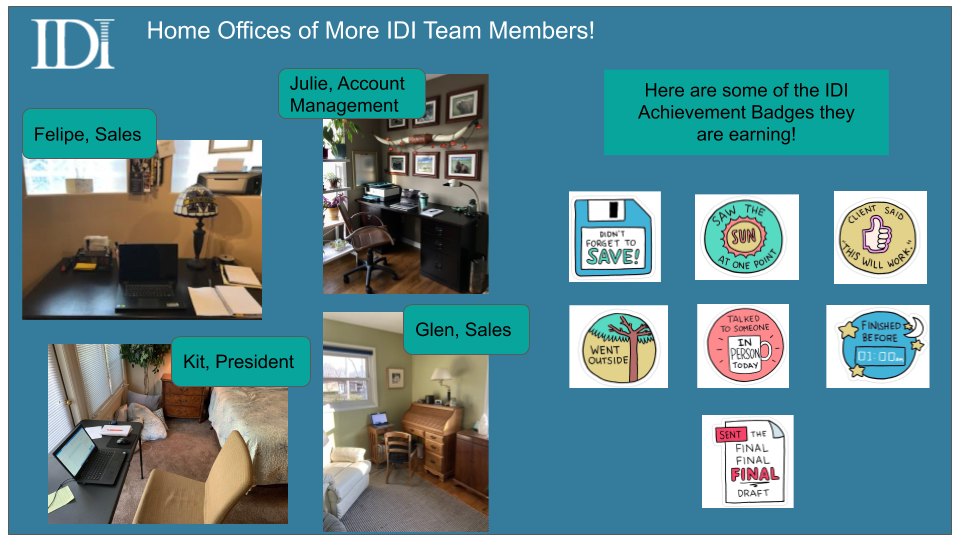 We'd love to feature YOUR home offices as well and give you shoutouts for healthy socially-distanced behavior like "Went Outside," or "Good Behavior During Skype Session." FYI, "Remembered to Eat" is also available as an Achievement Badge!
To join in the fun, just reply to this email with your photo and your working-from-home achievement!
---
We love to hear from our customers!