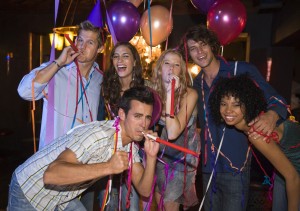 Did we just say National On Hold Month? Oh yes we did. At Spectrio, we're taking this whole month to recognize everyone who has been placed "on hold" after calling a place of business. And since more than 57% of all calls are placed on hold, this month is likely dedicated to you and a lot of people you know. If you need an excuse to hit up the bakery for a special treat during March, this one's for you!
Being in the on-hold business, we appreciate that more than 30% of you are willing to wait on hold from 1 to 5 minutes for customer service. And we REALLY appreciate the 5.8% of you that will stay on hold between 5 and 10 minutes. That's some serious dedication and you're the real reason we do what we do.
Another part of National On Hold Month involves honoring businesses who make this hold time more enjoyable by supplying informative messages and music for their waiting callers. So you can rest assured that we're tooting our own horn and celebrating National On Hold Month right along with you!
We would also like to take a moment to say THANK YOU to our wonderful clients that have trusted Spectrio with their On-Hold Messaging needs. For more than 28 years, we have been dedicated to providing top-notch on-hold messages and music to keep callers happy while holding for small, medium, and large businesses throughout North America and internationally.
Happy National On Hold Month to you and yours!