ZOLL Care Exchange
Manual data entry, scanning documents, faxing them, and searching for vital patient information is labor-intensive and can result in inaccuracies. ZOLL Care Exchange enables elimination of these time-consuming processes while improving patient follow-up and clinical outcomes. You can exchange data with all your pre-hospital partners, regardless of which ePCR product or EMR they use.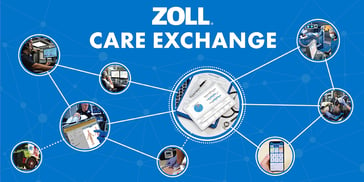 Receive patient data from all your EMS partners via one channel.
Attach the EMS Run Report to the Patient Chart automatically.
Improve clinical outcomes while minimizing compliance risk.
ZOLL AR Boost
Get accurate, actionable self-pay-related data to your billers in real time, and uncover lost revenue. With our automated data gathering process, you can consolidate multiple data streams into a filtered, integrated feed. The result? More revenue, fewer write-offs, less returned mail, more streamlined processes, and lower costs.

Explore every coverage option and payor source for self-pay patients.
Obtain complete and accurate patient information instantly.
Solve your insurance verification and eligibility issues for every patient and payor.
Maximize internal collections, and prevent low-hanging fruit from being outsourced to collectors.