DEMAND A FLOOD PLAN!
JOIN THOUSANDS OF OTHER CONCERNED HORRY COUNTY RESIDENTS IN TELLING STATE & LOCAL OFFICIALS TO STEP UP.
Despite the devastation of recent catastrophic storms, irresponsible real estate development continues and a lack of smart flood mitigation policies plague Horry County neighborhoods. Our residents are worried about protecting their families and the value of their homes.

Every major storm has shown us the county's deficiency in creating a flood resilient community, yet local officials still do not have a plan to stop unsafe development and construction that increase flood risk, an outline identifying the scope of the problem, or an idea of what it will cost to fix it.

We know that politicians will act when they see that voters will vote for their opponent if action is not taken on important issues like flooding. That's why we are asking you to sign our "Demand a Plan" petition to let them know we are serious about holding our politicians accountable.

Our group is making a difference. The bigger we are, the bigger the difference we can make!
We need a common-sense plan that:
Identifies the true risk to homeowners and businesses – today and in the future

Sets achievable flood risk reduction goals

Lists specific projects, cost estimates, and clearly defines ownership

Identifies local, state, and federal sources of funding

Specifies policy changes across land use and zoning

Considers community input and builds public engagement
Here's a checklist we've created to help understand what should be included in a good flood plan.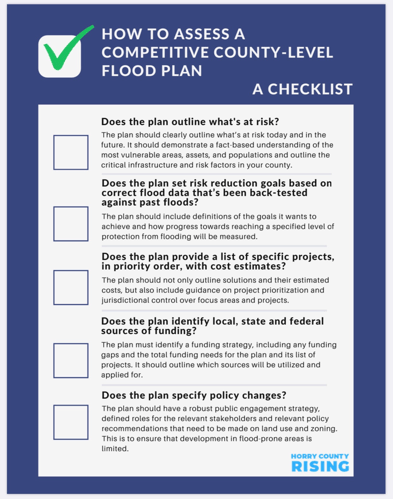 Join us in making a safer community safe. Sign the petition.