Hi You,
Happy Energy Efficiency Month!
Winter is coming.. and your heating bills are about to show it.
BUT winter doesn't have to be a time for cold chills and high energy bills. This newsletter is full of ways to keep your home toasty and warm, while saving some carbon emissions in the process. Start with these quick tips to get you started!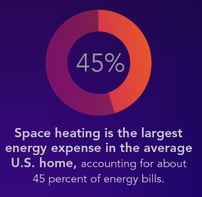 #1 Tune up your heating system
Our heating systems are similar to our cars, they need regular maintenance. Call one of our many local contractors to make sure your system is running efficiently and safely in your home.

#2 Adjust your thermostat down and night and away
Set your thermostat back at night when you're asleep and you go to work. Set them to turn up before you get home and for when get out of bed. Don't over-heat your house when you aren't there to enjoy it!

#3 Wash your clothes in cold water
Washing clothes in cold water saves energy because you don't need to use energy to heat the water.
Check out our blog post to learn more about the importance of energy efficiency and new technologies that can help you!