---

Welcome to Day 4 of the INFORMS Annual Meeting
Thank you for joining INFORMS for the 2019 Annual Meeting, we hope you enjoyed your time in Seattle! The INFORMS staff certainly did; it is always wonderful to see our members in person. We hope to see you again soon at the INFORMS Conference on Security (February 9-11) in Monterey, CA; INFORMS Analytics Conference (April 26-28) in Denver, CO; and the 2020 INFORMS Annual Meeting (November 8-11) in National Harbor, MD.
Make sure to check out the eNews Daily Wrap Up edition for coverage of the final day of the meeting. Until next time, safe travels!
---
---

Need to Know for #informs2019
Everything You Need to Know for Your Time in Seattle!
Click here for everything you need to know the moment you arrive in Seattle, including hotel and transportation information, tips for presenters, registration locations and guidelines, the INFORMS Center, and much more.
Newcomer Tips
New to INFORMS or the Annual Meeting? Click here for helpful tips!
---
---
Recap of Tuesday's INFORMS Member Meeting
Thank you to everyone who attended Tuesday night's Member Meeting! As always, this event provided members and staff the opportunity to mingle and connect while hearing the latest news from INFORMS. The 2019 Annual Meeting has had a record-breaking attendance and it has been wonderful seeing so many new faces! Click here to read more.
---

Thank you INFORMS Volunteers
The following INFORMS members received special recognition at Tuesday night's Member Meeting. Thank you for all that you do for INFORMS!
Stefan Karisch, Boeing
Through numerous volunteer efforts, including establishing a series of regional analytics conferences and representing the Analytics Society on the Subdivisions Council, Stefan Karisch has brought great credit upon himself, INFORMS, and the Analytics Society.
Scott Nestler, CAP, University of Notre Dame
Scott Nester is hereby recognized for his tireless efforts and contributions toward developing the analytics community characterized by the research, body of knowledge, meetings, events, mentors, and peer development that are unparalleled in service since 2008. Scott is among INFORMS' finest global strategists and esteemed experts.
---

---
Congratulations to the 2019 Wagner Prize Winner!
Congratulations to Zhiwei Qin, Xiaocheng Tang, and Yan Jiao of DiDi Research America, Mountain View, CA; and Fan Zhang, Zhe Xu, Hongtu Zhu, Jieping Ye of Didi Chuxing, Beijing, China, for their winning paper, Ride-hailing Order Dispatching on DiDi via Reinforcement Learning.
"Order dispatching (or order matching) is instrumental to the marketplace engine of a large-scale ride-hailing platform like DiDi. Due to the dynamic nature of supply and demand, the ride-hailing order dispatching problem is very challenging to solve over a long horizon. Added to the complexity are considerations of system performance and multi-objectives. In this paper, we describe the evolution of our approach to this optimization problem from a myopic combinatorial optimization approach to one that encompasses a semi-MDP model and deep reinforcement learning for long-term optimization."
---

---

Check Out the Exciting Lineup of Sessions
Plenaries & Keynote Speakers
Click here to check out the exciting lineup of plenary and keynote speakers who will be addressing attendees at the Annual Meeting.
Flash Sessions
Wednesday, October 23
Washington State Convention Center and Sheraton Grand Seattle
We invite you to come and join the audience in these stimulating rapid-fire sessions followed by Q&A's with each individual presenter at the end of the session. Click the links below for times and to learn more about each of today's sessions:
Flash Session VI
Flash Session VII
Flash Session VIII
Flash Session IX
Practitioner & Student Pages
Check out a special webpage that collates sessions and events to help practitioners and students better navigate the Annual Meeting and attend sessions with the most impact for them. Click here to learn more about the Practitioner Page and here to learn more about the Student Page.
---

OR What? Student Video Competition
Check Out the New Video, Inspired by the 2019 Winning Team!
Check out the new INFORMS student video, inspired by the winning submission for the OR What? Student Video Competition from the Virginia Tech INFORMS Student Chapter. Unveiled during the 2019 Annual Meeting, INFORMS, faculty, and student communities will use this video to reach undergraduates around the world, creating awareness of the field and the career opportunities in O.R. and analytics that await STEM students who want to make a difference. Click here to watch the video!
---
---

INFORMS Career Fair Interview Days
Attention Jobseekers: Don't Miss Your Last Chance to Interview!
Wednesday, October 23, 8am–1pm
Washington State Convention Center, Exhibit Hall 4A, Level 4
Job seekers who have scheduled interviews can meet with recruiters at their scheduled times. Please come to the 'Interview Waiting Area' in Hall 4A for your interviewer to call you. Check out the available jobs posted here and don't forget to upload your resume to the Career Center.
---
---
Annual Meeting Blog Roundup
Be sure to frequently check the Annual Meeting website to read commentary from your peers about their experiences in Seattle. Feel free to post your own comment!
---

2019 Student Writer Meeting Coverage
Plenary: Planning Transportation Capacity at Amazon
By Violet Chen
On Tuesday morning, a room full of participants joined Dr. Russell Allgor, Chief Scientist of WW Ops and AMZL at Amazon, to learn about how Amazon designs and operates its logistics network. Widely recognized for fast delivery and extensive product offerings, Amazon's success is indispensable from an efficient, dynamic, and robust logistics network. In his talk, Dr. Allgor discussed technical and organizational challenges that Amazon encounters in network design, introduced the current solutions addressing these challenges, and highlighted some opportunities and challenges that remain. Read More.
Keynote: Personalized Policies: Theory and Application
By Aida Rahmattalabi
With a world of data at our finger prints, there is a growing interest to utilize this data to train machine learning models that can automatically make predictions about future outcomes. These predictions are used by policymakers to solve various problems across society. Read More.
Operations/Economics Interface
By Violet Chen
The Tuesday afternoon session on Operations and Economics Interface consisted of four talks; each integrates some economic concepts in operations questions. I am the first presenter of this session. My talk is based on a joint project with Dr. John Hooker titled "Combining Leximax Fairness and Utilitarianism in a Mathematical Programming Model." The primary purpose of our work is to develop a new modeling approach to characterize a trade-off between equity and efficiency. Extending previous work on combining Rawlsian maximin fairness and utilitarianism, we define a sequence of social welfare functions as a combined measure of leximax fairness and utilitarianism. The definition follows the key principle to be equitable until equity sacrifices too much efficiency. Read More.
National Science Foundation II
By Amira Hijazi
The National Science Foundation (NSF) provides several funding opportunities for ORMS people. In his talk, Dr. Jeryl L. Mumpower, presents some NSF programs that the ORMS community can benefit from. Read More.
Improving the Allocation of Donor Organs: Treating to the Priority in Heart Transplantation
By Amira Hijazi
Organ transplantation improves quality of life and saves around $300,000. The TA62 session held Tuesday morning involved different talks that share the same goal: improving the allocation of donor organs. Dr. Sait Tunc, Assistant Professor from Virginia Tech, started the session by presenting a queueing model to analyze the gaming decisions of heart transplant centers. Gaming decisions happen because of the therapy-based prioritization for heart allocation. Dr. Tunc showed that gaming is more prominent when there is a lower death rate of urgent patients and if there is a higher competing demand. However, if organs are too scarce, the threshold-based gaming policy never exceeds a certain ratio. Read More.
Robust Optimization and Learning Under Uncertainty
By Aida Rahmattalabi
Decision making in an uncertain world is a challenging problem both from modeling and optimization perspectives. In the session "Robust Optimization and Learning under Uncertainty," some of these problems were discussed. The first talk was given by Han Yu, PhD student at the University of Southern California. In her talk, she introduced an important, yet relatively underexplored problem: a lot of real-world decision-making problems happen over time, where an individual makes decisions, obtains information, and using this history, makes additional decisions in the future. But, what if the information that we receive is also impacted by the decisions we make in the first place? These problems, as you can expect, quickly become intractable. In her talk, Han Yu introduced an efficient approach of solving this class of problems. Read More.
---

---

INFORMS Communities & Subdivisions
Community Meetings
All are welcome to these meetings featuring business meetings, receptions, and networking sessions. For a complete listing, please click here.
Join a Community!
Whether you are a new or existing member of INFORMS, take some time while in Seattle to sign up for a Community (also known as Subdivision) of your choice. There is no better way to maximize your membership and build your network. As a new 2019 or 2020 member, you qualify for one free Community! Click here to learn more.
---
---

Pro Bono Analytics Thanks You for Your Support!
INFORMS Pro Bono Analytics is partnered with Seattle-based nonprofit organization, FareStart, an organization providing people who are struggling with the skills they need to get a job in the field of food services and culinary arts, while also helping to provide necessities like clothing and food, to build hygiene kits and make "no-sew" blankets for homeless students.
Thanks to our generous attendees, we have assembled 200 hygiene kits and made 35 blankets! These donations were picked up by FareStart Tuesday afternoon of the meeting and will be distributed to students in need in Seattle.
Elise Tinseth, Community Engagement Manager with FareStart, shared, "The INFORMS Pro Bono microvolunteer opportunity of creating hygiene kits is impactful to eliminating barriers our students who are experience poverty and homelessness have to getting jobs in the food service industry. Thank you to everyone who stopped by to contribute to our students journey."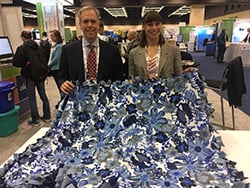 Missed the activity? No problem! Stop by the INFORMS Center to learn more about Pro Bono Analytics and how you can help by either volunteering your services or putting the committee in contact with a local nonprofit organization in your community that can benefit from our help. We will also be accepting donations to support FareStart until the end of the meeting.
---

Share Your Experience
Share your photos and videos using #informs2019, and follow @INFORMS2019 on Twitter for official conference updates. Engage with INFORMS on Instagram and check out real-time conference videos and the INFORMS Seattle Geofilter (available in the Washington State Convention Center and the Sheraton Grand Seattle) on Snapchat at @INFORMS_ORMS. Be sure to check out conference photos on the INFORMS Flickr account.

Join the Annual Meeting LinkedIn Group and the Annual Meeting Connect Group to virtually connect with fellow attendees and discuss key topics of the day.
---