---

Welcome to Day 3 of the INFORMS Annual Meeting
Check out a recap of the previous day's events, as well as a look ahead to today's meeting activities!
---
---

Need to Know for #informs2019
Everything You Need to Know for Your Time in Seattle!
Click here for everything you need to know the moment you arrive in Seattle, including hotel and transportation information, tips for presenters, registration locations and guidelines, the INFORMS Center, and much more.
Newcomer Tips
New to INFORMS or the Annual Meeting? Click here for helpful tips!
---
---

---
2019 INFORMS Annual Meeting Awards
Student Chapter Award Winner Announcements
Congratulations to all the winners! We hope you had the opportunity to join us in recognizing the great contributions of our most dynamic student volunteers.
Judith Liebman Award
Andrew Chung Chee Law, Virginia Tech
Brittany Segundo, Texas A&M University
Ann Svirsko, University of Pittsburgh
Student Chapter Annual Awards
Summa cum laude:
Texas A&M University
University of South Florida
University of Michigan
Magna cum laude:
Northeastern University
University at Buffalo – SUNY
Virginia Tech
Carnegie Mellon University
Cum laude:
University of Pittsburgh
Clemson University
Lehigh University
Pontificia Universidad Católica de Chile
Pennsylvania State University
Purdue University
New York Institute of Technology – NYIT
University of Oklahoma
INFORMS Undergraduate Scholarship Awards


Elisa Danthinne,

Northeastern University


Michael Gao,

Harvey Mudd College


Angela Lin,

Rice University


Luiza Marques Santos,

Texas Tech University
Subdivision Awards
Throughout the Annual Meeting, the INFORMS subdivisions will be presenting their own awards, beginning the Saturday before the meeting. Click here for the full list of awards.
---
Daniel H. Wagner Prize Reprise
The winning reprise will be presented on Tuesday, October 22 at 3:40pm in the Washington State Convention Center, Room 6A, Level 6.
---

---

OR What? Student Video Competition
Come See the New Video, Inspired by the 2019 Winning Team!
Join us at this evening's INFORMS Member Meeting for the unveiling of the new INFORMS student video! Inspired by the winning submission for the OR What? Student Video Competition from the Virginia Tech INFORMS Student Chapter. After the meeting, INFORMS, faculty, and student communities will use this video to reach undergraduates around the world, creating awareness of the field and the career opportunities in O.R. and analytics that await STEM students who want to make a difference.
INFORMS Member Meeting
Tuesday, October 22, 6:15-7:15pm
Sheraton Grand Seattle, Grand Ballroom A, 2nd Floor
---

---
---

Check Out the Exciting Lineup of Sessions
Plenaries & Keynote Speakers
Click here to check out the exciting lineup of plenary and keynote speakers who will be addressing attendees at the Annual Meeting.
Interactive Poster Presentations
Tuesday, October 22
Washington State Convention Center, Exhibit Hall 4AB, Level 4
Poster sessions allow presenters to benefit from the interactive critique, suggestions, and encouragement of colleagues working in similar areas, with three prize winners selected today. E-Poster Walk Sessions feature electronic versions of competition semifinalist posters.
Each poster presenter will also have three Golden Tickets to share with attendees of their choosing who attend their poster presentation. Anyone who receives a ticket can turn it in at the INFORMS Center for a special prize drawing. Five swag bags will be given out today.
Flash Sessions
Monday-Wednesday, October 21-23
Washington State Convention Center and Sheraton Grand Seattle
We invite you to come and join the audience in these stimulating rapid-fire sessions followed by Q&A's with each individual presenter at the end of the session. Click the links below for times and to learn more about each of today's sessions:
Inaugural Flash Session II (Decision Analysis)
Flash Session I
Flash Session II
Flash Session III
Flash Session IV
Flash Session V

National Science Foundation Funding Opportunities
Tuesday, October 22, 2-3:30pm
Washington State Convention Center, Room 303, Level 3
Jeryl L. Mumpower, Program Director, Decision, Risk and Management Sciences, will discuss funding opportunities not only within disciplinary programs in Engineering and Foundation-wide, cross-cutting initiatives, but also within the Directorate for Social, Behavioral, and Economic Sciences (DRMS). Established in 1982, DRMS was the first program at NSF to specifically embrace INFORMS research.
Practitioner & Student Pages
Check out a special webpage that collates sessions and events to help practitioners and students better navigate the Annual Meeting and attend sessions with the most impact for them. Click here to learn more about the Practitioner Page and here to learn more about the Student Page.
Introducing the Newest Editor's Cut
Diversity & Inclusion: Analytics for Social Impact
INFORMS announces the newest edition of the INFORMS Editor's Cut, Diversity & Inclusion: Analytics for Social Impact. The word "diversity" refers to all manner of differences from personal identity to professional styles and community characteristics. This wide range of meanings has legitimized the term while also creating ambiguity in its use. This volume focuses on understanding more clearly how diversity, equity, and inclusion as part of analytical modeling, can result in greater beneficial outcomes making a lasting difference in our society.
To learn more about the Editor's Cut series, check out the panel session to hear from the editors and learn more about this open access, multimedia online resource. The panel session will be held on Tuesday, October 22, 4:35-6:05pm at the Sheraton Grand Seattle's Union Street Tower, Level 4, in the Boren Room.
---

INFORMS Career Fair Interview Days
Attention Jobseekers: Don't Miss Your Chance to Interview!
Tuesday, October 22; 8am–5pm
Wednesday, October 23; 8am–1pm
Washington State Convention Center, Exhibit Hall 4A, Level 4
Job seekers who have scheduled interviews can meet with recruiters at their scheduled times. Please come to the 'Interview Waiting Area' in Hall 4A for your interviewer to call you. Check out the available jobs posted here and don't forget to upload your resume to the Career Center.
---
---
Annual Meeting Blog Roundup
Be sure to frequently check the Annual Meeting website to read commentary from your peers about their experiences in Seattle. Feel free to post your own comment!
---

2019 Student Writer Meeting Coverage
Plenary: The Parametric Self-Dual Simplex Method – A Modern Perspective
Amira Hijazi
In his plenary talk, Dr. Robert J. Vanderbei, Professor of Operations Research and Financial Engineering at Princeton University, presents the parametric self-dual simplex method (PSD). With a room full of audience, Dr. Vanderbei starts his talk by defining the method and explaining how different it is from other variants of simplex method. He explained that PSD is a very attractive method from educational and application point of view. Read More.
Keynote: The New Age of Healthcare Delivery
By Aida Rahmattalabi
Are you an active researcher in the healthcare domain? Do you want to know more about the recent advances in the healthcare system? If yes, then you could not have missed Linda Green's keynote speech on the new advances in healthcare delivery. Read More.
Disaster Preparedness and Response through Optimization
By Violet Chen
Monday started with a diverse line up of talks, including the session "Disaster Preparedness and Response through Optimization," chaired by Dr. Joseph Szmerekovsky, Professor of Transportation and Logistics at North Dakota State University. Dr. Shaolong Hu from Texas State University opened up this session with his joint work with Dr. Zhijie Dong on "A Multi-stage Stochastic Programming Model for Relief Distribution Considering the State of Road Network." Their approach captures various factors which have potential impacts on relief distribution. Read More.
Law and Fairness in O.R.
By Aida Rahmattalabi
There is a rising interest in understanding the issues surrounding fairness. The session "Law and Fairness in OR" hosted a series of great talks that focused on this topic. The talks approached the problem of fairness from different angles. In particular, Valerie Thomas introduced a broad overview of fairness and she provided a list of different considerations that impact our perception of fairness. Read More.
The National Science Foundation (NSF) I
By Violet Chen
The National Science Foundation (NSF) is one of the major federal organizations granting funding for research projects conducted by the INFORMS community. On Monday afternoon, Dr. Rance Cleaveland, Division Director of Computing and Communication Foundations (CCF) at the NSF, gave an informative talk about the Computing and Information Science and Engineering (CISE) directorate at NSF. This session was chaired by Dr. Sheldon H. Jacobson from the University of Illinois at Urbana–Champaign. Dr. Jacobson started by welcoming the audience and recognizing that this session serves as one of the new visions of INFORMS 2019: providing the community broader exposure to the operations of the NSF. Read More.
Healthcare Modeling and Optimization VIII
By Amira Hijazi
Operations research and analytics are powerful tools that can be used to model, analyze, and improve almost every aspect of life. Today's session, "Health Care Modeling and Optimization VIII," included six talks with a goal of using O.R. and analytics to help improve healthcare: starting with Dr. Zlatana Nenova, with a focus on predicting future demand of kidney disease patients. She presents a two-step framework to identify high impact individuals; identification of those patients is very critical for hospitals as it affects future hiring needs. Read More.
---

---

INFORMS Communities & Subdivisions
Community Meetings
All are welcome to these meetings featuring business meetings, receptions, and networking sessions. For a complete listing, please click here.
Join a Community!
Whether you are a new or existing member of INFORMS, take some time while in Seattle to sign up for a Community (also known as Subdivision) of your choice. There is no better way to maximize your membership and build your network. As a new 2019 or 2020 member, you qualify for one free Community! Click here to learn more.
---
Can't-Miss Social Events
Member Meeting, Receptions, Awards, and More!
Come meet and form lasting connections with your fellow attendees at several social events that will be held during the meeting, including:
INFORMS Member Meeting & Reception
Tuesday, October 22, 6:15-7:15pm
Sheraton Grand Seattle, Grand Ballroom A, 2nd Floor
The INFORMS Board of Directors encourages all members to bring their ideas, opinions, and suggestions to this meeting. Current business and future directions for INFORMS will be discussed. Outstanding members will be celebrated with the presentation of the Volunteer Service Award.

Come to mingle, network, and celebrate! Light snacks, soft drinks, bottled water, beer, and wine will be served.



General Reception
Tuesday, October 22, 7:30-10pm
Washington State Convention Center, 4E, Level 4 (Accessible via the Skybridge)
Come enjoy a Northwest-inspired menu, with salmon of course! Compete with your colleagues in a game on the giant football table or shoot the most basketball hoops and get your name on the top 10 list. You can also immerse yourself in the digital world with virtual reality pods. This reception provides the perfect atmosphere for fellowship and networking while also having a bit of fun after a long day of sessions.
Click here to learn more about these and other exciting social events!
---
---
Congratulations to the INFORMS Fellows Class of 2019
The 2019 Fellows were honored yesterday for their exceptional accomplishments and contributions to the advancements of analytics, operations research, and management science over a period of time.
Congratulations to:
Karen Aardal, Senior Researcher, Delft University of Technology
For contributions to the theoretical and computational foundations of integer programming, with applications to facility location, frequency assignment, and emergency response, as well as a career of exceptional visionary service to both INFORMS and the broader optimization community.
Alper Atamturk, Professor, University of California - Berkeley
For contributions to theory and implementation of integer programming and robust optimization, and applications to important problem areas.
Hung-Po Chao, Senior Director and Chief Economist, PJM Interconnection
For sustained contributions to energy systems research, market design, practice and service to the profession.
Xiuli Chao, Professor, University of Michigan
For distinguished research contributions to applied probability, queueing networks, scheduling, inventory control, and service systems as well as significant contributions in service to the profession and higher education.
Antonio Conejo, Professor, The Ohio State University
For contributions to formulation and implementation of optimization models for operations and planning of electric energy systems and electricity markets, and for outstanding service as an educator and leader in the INFORMS community.
Louis Anthony Cox Jr., University of Colorado and Cox Associates
For significant research, practice, and service contributions to homeland security, health and environmental risk analysis, telecommunications, and the modeling of causality.
Brian T. Denton, Professor and Chair, University of Michigan
For contributions to INFORMS leadership and to OR/MS theory, methodologies and practice in supply chains, medicine, and healthcare management with successful implementations and broad impact to individuals and society.
Costis Maglaras, Chair of the Decision, Risk & Operations Division, Columbia Business School
For contributions to stochastic modeling and optimization of service systems, revenue management, and high frequency micro market structure.
Jong-Shi Pang, Chair and Professor, University of Southern California
For his distinguished scholarship, exemplary leadership, and dedicated service in the field, with significant impact in the advancement of knowledge and practice and education and mentoring of talents.
Roman Slowinski, Professor & Founding Chair, Poznań University of Technology (Poland)
For outstanding service to the O.R. community worldwide over an extended period of time and significant contributions that advanced the stature and recognition of the OR/MS profession.
Chung Piaw Teo, Director, Institute of Operations Research and Analytics, National University of Singapore
For exceptional contributions in the areas of optimization under uncertainty with applications (in particular, in inventory, logistics, and supply chain management) and for outstanding leadership and service to the profession.
Zelda Zabinsky, Professor, University of Washington
For fundamental contributions in developing theory and algorithms for global optimization, with significant applications in engineering design, health care, and numerous other fields, and substantial impacts in education and service.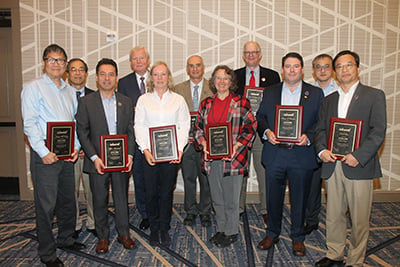 ---
---

Pro Bono Analytics
Homelessness, joblessness, poverty, and hunger… they are some of the colossal hurdles facing our society. This year, at our Annual Meeting, INFORMS Pro Bono Analytics is partnering with a Seattle-based nonprofit organization to put an end to some of the heartache being felt by the local community.
FareStart is an organization providing people who are struggling with the skills they need to get a job in the field of food services and culinary arts, while also taking away some of their fears by helping to provide necessities like clothing and food.
How can you help? The INFORMS volunteer initiative will aid the Seattle community by building hygiene kits and making "no-sew" blankets for homeless students. The cost for each hygiene kit is just $5 and the blankets are $18. Any further donations will fulfill the FareStart wish list, consisting of items like clothing and gift cards.
Together, we can help people overcome their obstacles and create and achieve new dreams.
Please consider a monetary donation to assist INFORMS and its members in their continued efforts to support the communities of our conference host cities.
The Pro Bono Analytics Micro-Volunteering activity will be located at the INFORMS Center in Washington State Convention Center, Exhibit Hall, AB, Level 4, Tuesday, October 22, 9am-4pm.
---
INFORMS Annual Meeting Survey
INFORMS is asking for your feedback on a mini two question survey that also enters you in the running for a special prize! The printed survey, which will be available at INFORMS Registration and the INFORMS Center, is asking for your feedback on the meeting day pattern, as well as your preference of which days you would prefer to present. Your completed survey must be turned in at the INFORMS Program Information Desk, Level 4, Atrium by Tuesday, October 22, by noon to be entered into the drawing.
The grand prize drawing for a pair of Bose Headphones will take place on Tuesday, October 22, at 1:45pm in the the Washington State Convention Center, INFORMS Center, Exhibit Hall, 4AB, Level 4. You must be present at the time of the drawing to win.
---

Share Your Experience
Share your photos and video using #informs2019, and follow @INFORMS2019 on Twitter for official conference updates. Engage with INFORMS on Instagram and check out real-time conference videos and the INFORMS Seattle Geofilter (available in the Washington State Convention Center and the Sheraton Grand Seattle) on Snapchat at @INFORMS_ORMS. Be sure to check out conference photos on the INFORMS Flickr account.

Join the Annual Meeting LinkedIn Group and the Annual Meeting Connect Group to virtually connect with fellow attendees and discuss key topics of the day.
---