CEMS IN THE NEWS
A Walk in the Park
Chris Danforth, Peter Dodds, Aaron J. Schwartz, Jarlath P. M. O'Neil‐Dunne, and Taylor H. Ricketts were featured in the Washington Post for their research demonstrating the association between nature contact and improved mood. Read the article, "Visiting a park boosts your happiness like Christmas morning, new research shows," and then get outside!


Wliwni (Thank you, in Abenaki)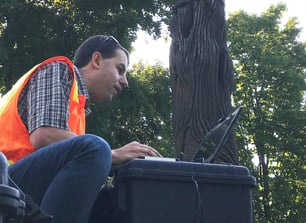 Scott Hamshaw appeared in the Burlington Free Press this past August, adjusting a Light Detection and Ranging (LIDAR) device he used to make a 3-D surface scan of the deteriorating wooden statue of Chief Grey Lock in Battery Park. His efforts will ensure that the statue—important to the Missisquoi Abenaki Nation and all Vermonters—has a future as well as a rich past.
RESEARCH GRANTS AND AWARDS

The Threat Stack Cybersecurity Fellowship is an exciting new collaboration between Threat Stack, a fast-growing cloud cybersecurity company helmed by alumni Brian Ahern, and the Department of Computer Science's Research Group in Security and Privacy. Chris Skalka and a diverse team secured this fellowship through a lot of hard work! Read about all the connections this important fellowship is making.
David Darais received two significant grants associated with the new Computer Security and Privacy Interdisciplinary Research Group:
NSF grant "SHF: Medium: Collaborative Research: Synthesizing Verified Analyzers for Critical Software"
IARPA HECTOR grant "The PANTHEON Platform for Secure Computation"
Donna Rizzo and James Bagrow are working with an interdisciplinary UVM team, lead by internationally recognized forest researcher Professor Tony D'Amato, to develop a sensor network in UVM's Research Forests. Funding secured from the National Science Foundation will support the sensor network, which will monitor forest health and eventually be situated throughout the Northeast.
12 NEW FACULTY MEMBERS
CEMS is thrilled to welcome a dozen new colleagues this year! These folks are each engaged in rigorous research and bring an excellence to teaching that will enrich our students immeasurably.
Mathematics and Statistics

Spencer Backman, Assistant Professor
Alex Levin, Lecturer

Theodore Owen, Lecturer
Electrical and Biomedical Engineering
Luis Duffaut Espinosa, Assistant Professor

Juan Jose Uriarte, Lecturer
Mechanical Engineering
Kenneth Burkman, Senior Lecturer
Civil and Environmental Engineering
Clelia Marti De Ocampo, Assistant Professor


Courtney Giles, Lecturer
Scott Hamshaw, Research Assistant Professor

Dana Rowangould, Research Assistant Professor
Gregory Rowangould, Associate Professor

Matthew Scarborough, Assistant Professor
HONORS AND ACCOLADES
Mandar Dewoolkar has been elected a Fellow of the American Society of Civil Engineers (ASCE) because of his celebrated contributions and creative solutions that change lives around the world. It is a prestigious honor held by 3% of ASCE members.

In recognition of Jianke Yang's strong contributions in the field of optics, he was recently elected a fellow of The Optical Society of America (OSA).


Bronze is Best!
CEMS has been awarded the prestigious Bronze Level Award for the 2019 The American Society for Engineering Education (ASEE) Diversity Recognition Program. This is the highest recognition ASEE gives at this time and this achievement reflects CEMS' commitment to an inclusive and welcoming environment.
We're #1 (for the second year in a row)!
UVM Ranks #1 for Best Schools for Environment Engineering in Vermont in 2019 Report
Biggest and smartest class ever for CEMS
The incoming undergraduate class at the College of Engineering and Mathematical Sciences is our largest and most academically advanced yet. CEMS' future is bright!
---
Accelerated Master's programs at UVM
CEMS' Accelerated Master's Programs (AMPs) offer tremendous opportunities and value for scholars as they launch into their careers with firm footing and a breadth of industry knowledge. Learn more and spread the word!
---
RECENT GIFTS
We are incredibly grateful to the following people for their generosity and abiding belief in CEMS' students and the future of the College:
Bill and Rachel Rowland created The Rowland CEMS Dean's Fund, an estate bequest that will create an endowment for the Dean to use on CEMS priorities.
Walker Kimball's gift institutes The Walker Kimball Scholarship Fund, an endowment for civil engineering scholarships.
Dan Croteau generously donated to launch The Croteau Fund for Biomedical Innovation.
MITRE Corporation established The MITRE PhD Fellowship in Complex Systems, which provides fellowship support for graduate students pursuing a PhD in Complex Systems with meritorious achievements and an interest in computational finance.
Neal Margulis graciously added to The Neal Margulis Scholarship Fund to ensure a thriving scholarship endowment for computer science undergraduates.
Gerry Beatty established The Gerry Beatty CEMS Dean's Fund for the strength and vitality of CEMS.