---

Welcome from the Annual Meeting Chair
Dear friends,
Welcome to the INFORMS Annual Meeting in Seattle! The Convention Center and Sheraton Hotel in the heart of downtown Seattle offer an excellent layout for this conference. They are located in a vibrant area near many restaurants and shops, not far from landmarks such as the Space Needle and the Pike Place Market.
We have organized the meeting around the broad themes of theory and practice of OR/MS, data science, analytics, artificial intelligence, and machine learning, within the context of applications such as education, energy, healthcare, humanitarian logistics, manufacturing, revenue management, supply chain management, sustainability, and transportation.
Click here to read more.
---
---

Annual Meeting Daily eNews
Each morning of the Annual Meeting – Sunday through Wednesday – you will receive a copy of the Annual Meeting eNews Daily in your inbox, with links to special Annual Meeting coverage and helpful resources on the INFORMS Annual Meeting website. These daily updates will provide a recap of the previous day's activities and a preview of upcoming can't-miss events.
There will be links to each issue on the Annual Meeting website. If you have any questions or updates, please contact Ashley Kilgore, Manager of Communications.
---

Need to Know for #informs2019
Everything You Need to Know for Seattle!
Click here for everything you need to know the moment you arrive in Seattle, including hotel and transportation information, tips for presenters, registration locations and guidelines, the INFORMS Center, and much more.
Newcomer Tips
New to INFORMS or the Annual Meeting? Click here for helpful tips!
---

New - Reporting Hotline
We are committed to a culture of openness, trust, safety, diversity, and inclusion. That is why we have both a Code of Conduct and an Ethics Code. These codes are part of our efforts to advance professional and ethical conduct and a safe environment for all involved in INFORMS activities.
Effective October 18, 2019, we have engaged Lighthouse Services to provide an anonymous code of conduct and ethics hotline that will ensure anyone wishing to submit a report anonymously or otherwise can do so.
Please note that the information provided by you may be the basis of an investigation. Your anonymity will be protected to the extent possible by law, by Lighthouse, and by INFORMS. Investigations, when required, will be conducted by a third-party company, Operations Inc.
The Lighthouse Services toll-free number and other methods of reporting are available 24 hours a day, 7 days a week.
Website:

www.lighthouse-services.com/informs

Toll-free telephone:

English-speaking USA and Canada: 855-650-0005
Spanish-speaking USA and Canada: 800-216-1288
Spanish-speaking Mexico: 01-800-681-5340
French-speaking Canada: 855-725-0002

Email:

reports@lighthouse-services.com

(must include INFORMS name with report)
Fax: 215-689-3885 (must include INFORMS name with report)
---

---
INFORMS Podcast Resoundingly Human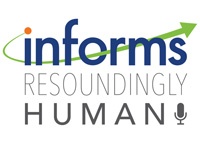 Before you depart for the Annual Meeting, make sure to download episodes of the INFORMS podcast Resoundingly Human to listen to on your trip. The podcast celebrated its one-year anniversary this summer, and we are excited to share a brand new year of episodes with you! The latest episodes are available on OR/MS Today, and previous episodes can be downloaded from Stitcher, iTunes, Google Play, and Spotify.
In addition, we will be recording special episodes of the podcast while in Seattle, so come check us out at the INFORMS Center and stay tuned for new episodes!
---
---

Thank You to Our Sponsors
Thank you to these organizations for their generous support!
University of Washington, College of Engineering
University of Washington, Foster School of Business
Platinum Sponsors
FICO® Xpress
Gold Sponsors

Silver Sponsors
University of Texas at Austin
Bronze Sponsors
Penn State
Rochester Institute of Technology
Singapore University of Technology and Design
UC Berkeley, IEOR Department
University of Washington Bothell
University of Texas at Dallas, Naveen Jindal School of Management
---

---
2019 INFORMS Annual Meeting Awards
2019 INFORMS Awards Ceremony & Dessert Reception

Sunday, October 20
8:30-9:45pm
Washington State Convention Center, Room 6E, Level 6
Your MC for the evening:
2019 INFORMS President Ramayya Krishnan
Join us for dessert and coffee to celebrate the winners of several key INFORMS awards:
Four special student awards:
Student Chapter Awards & Reception
Monday, October 21
7:30-9:30pm
Sheraton Grand Seattle, Metropolitan Ballroom, Third Floor
All students registered for the meeting are invited to attend the Student Awards Ceremony. The Chapters/Fora Committee will present the winners of the Student Chapter Annual Awards and the Judith Liebman Award. Join us in recognizing the great contributions of our most dynamic student volunteers. Plan to stay for the Student Reception, which immediately follows the ceremony.
Subdivision Awards
Throughout the Annual Meeting, the INFORMS subdivisions will be presenting their own awards, beginning the Saturday before the meeting. Click here for the full list of awards.
INFORMS Announces New Award
INFORMS is excited to announce a new award that will be presented at the Annual Meeting each year, the Donald P. Gaver, Jr. Early Career Award for Excellence in Operations Research. This award supports creative and diverse work in operations research in the early career of the recipient. The candidate must be within 10 years of receiving a PhD and be in a tenure track.
This award is named in honor of longtime member and fellow of INFORMS Donald P. Gaver, Jr. He served as chairman of the INFORMS Applied Probability Society in 1989 and was highly respected among his peers as well as a mentor to students.
---
Daniel H. Wagner Prize Presentations
All presentations will take place on Monday, October 21 in the Washington State Convention Center, Room 6C, Level 6.
8-8:30am
Daily Tutor Scheduling Support at Hopeful Journeys Educational Center
8:30-9am
Empowering Denver Public Schools System to Optimize School Bus Operations
9-9:30am
Pricing Analytics for Rotable Spare Parts
11am-12:30pm
London Heathrow Airport Uses Real-Time Analytics for Improving Operations
11am-12:30pm
Ride-haling Order Dispatching on DiDi via Reinforcement Learning
The winning reprise will be presented on Tuesday, October 22 at 3:40pm in the Washington State Convention Center, Room 6A, Level 6.
---

---

OR What? Student Video Competition
Come See the New Video, Inspired by the 2019 Winning Team!
The Virginia Tech INFORMS Student Chapter was selected as the winner of the OR What? Student Video Competition in early 2019. Many student chapters submitted videos meant to introduce the field of O.R. and analytics to an audience of undergraduate students. The Virginia Tech team's video was chosen for its portrayal of the many applications of O.R. and analytics and how people in the field are "saving lives, saving money, and solving problems." The winning video served as inspiration for a professionally produced video that will debut at the Annual Meeting. After the meeting, INFORMS and our student chapters will use this video to reach undergraduates around the world, creating awareness of the field and the career opportunities in O.R. and analytics that await STEM students who want to make a difference.
The video will be shown at the following events and will be available on YouTube following its reveal:
Student Awards Ceremony & Reception
Monday, October 21, 7:30-9:30pm
Sheraton Grand Seattle, Metropolitan, 3rd Floor
INFORMS Member Meeting
Tuesday, October 22, 6:15-7:15pm
Sheraton Grand Seattle, Grand Ballroom A, 2nd Floor
---
---

Check Out the Exciting Lineup of Sessions
Plenaries & Keynote Speakers
Click here to check out the exciting lineup of plenary and keynote speakers who will be addressing attendees at the Annual Meeting.
Interactive Poster Presentations
On Monday and Tuesday, poster sessions allow presenters to benefit from the interactive critique, suggestions, and encouragement of colleagues working in similar areas, with three prize winners selected each day. E-Poster Walk Sessions feature electronic versions of competition semifinalist posters from 12:30-2:30pm on both Monday and Tuesday in the Washington State Convention Center, Exhibit Hall 4AB, Level 4.
Each poster presenter will also have three Golden Tickets to share with attendees of their choosing who attend their poster presentation. Anyone who receives a ticket can turn it in at the INFORMS Center for a special prize drawing. Five swag bags will be given out on Monday, and another five bags will be handed out on Tuesday, after the conclusion of the poster session at 2:30pm.
Flash Sessions
Monday-Wednesday, October 21-23
Washington State Convention Center and Sheraton Grand Seattle
We invite you to come and join the audience in these stimulating rapid-fire sessions followed by Q&A's with each individual presenter at the end of the session. Click the links below for times and to learn more about each session:
Inaugural Flash Session I (Decision Analysis)
Inaugural Flash Session II (Decision Analysis)
Flash Session I
Flash Session II
Flash Session III
Flash Session IV
Flash Session V
Flash Session VI
Flash Session VII
Flash Session VIII
Flash Session IX
National Science Foundation Funding Opportunities
For those attendees interested in understanding a range of National Science Foundation (NSF) funding opportunities, we encourage you to join us for two special sessions.
Monday, October 21, 4:30-6pm
Washington State Convention Center, Room 303
Rance Cleaveland, Director, Division of Computing and Communications Foundations (CCF), will provide an overview of the Computing and Information Science and Engineering (CISE) directorate. Through CISE, NSF provides over 85% of federal funding for basic computing research. Dr. Cleaveland will describe how CISE is organized and then spend time describing the research activities in the CCF and Intelligent Information Systems (IIS) divisions of CISE, which are where topics of most interest to the INFORMS community are most likely to find support.
Tuesday, October 22, 2-3:30pm
Washington State Convention Center, Room 303
Jeryl L. Mumpower, Program Director, Decision, Risk and Management Sciences, will discuss funding opportunities not only within disciplinary programs in Engineering and Foundation-wide, cross-cutting initiatives, but also within the Directorate for Social, Behavioral, and Economic Sciences (DRMS). Established in 1982, DRMS was the first program at NSF to specifically embrace INFORMS research.
Practitioner & Student Pages
Check out a special webpage that collates sessions and events to help practitioners and students better navigate the Annual Meeting and attend sessions with the most impact for them. Click here to learn more about the Practitioner Page and here to learn more about the Student Page.
Associate Certified Analytics Professional (aCAP)
Attention Students: The aCAP is a professional certification program designed to meet the needs of new analytics professionals. Come to the INFORMS Center in the Washington State Convention Center, Exhibit Hall 4AB, Level 4 to learn how the aCAP program can enhance your resume, increase professional credibility, demonstrate knowledge of the analytics process, and provide other benefits.
Introducing the Newest Editor's Cut
Diversity & Inclusion: Analytics for Social Impact
INFORMS announces the newest edition of the INFORMS Editor's Cut, Diversity & Inclusion: Analytics for Social Impact. The word "diversity" refers to all manner of differences from personal identity to professional styles and community characteristics. This wide range of meanings has legitimized the term while also creating ambiguity in its use. This volume focuses on understanding more clearly how diversity, equity, and inclusion as part of analytical modeling, can result in greater beneficial outcomes making a lasting difference in our society.
To learn more about the Editor's Cut series, check out the panel session to hear from the editors and learn more about this open access, multimedia online resource. The panel session will be held on Tuesday, October 22, 4:35-6:05pm at the Sheraton Grand Seattle's Union Street Tower, Level 4, in the Boren Room.
---
---

INFORMS Career Fair & Interview Days
Career Fair Networking Meet & Greet
Sunday, October 20
12–5pm
Washington State Convention Center, Exhibit Hall 4A, Level 4
Job seekers, don't miss Sunday's Career Fair where over 100 companies are expected to be recruiting. Bring printed copies of your resume.
At this one-day event attendees will be able to:
Gather materials and make vital connections
Meet one-on-one with representatives of top employers
Research the postings of the over 100 top employers
Drop off your resume if you are unable to connect in person
View the current job descriptions from the participating employers by logging into INFORMS Connect as a registered meeting attendee.
Attention Jobseekers: Don't Miss Your Chance to Interview!
Monday-Wednesday, October 21-23
8am–5pm (8am–1pm on Wednesday)
Washington State Convention Center
By Appointment Only
Meet at the Career Fair on Sunday (only) or contact employers prior to the conference to pre-schedule an interview. Check out the available jobs posted here and don't forget to upload your resume to the Career Center.
---
---
Stay Up-to-Date with Daily Annual Meeting Coverage
Introducing the 2019 Student Writers
INFORMS is excited to introduce this year's student writers: Amira Hijazi of North Carolina State University, Violet Chen of Carnegie Mellon University, and Aida Rahmattalabi of the University of Southern California. Each day, they will share their experience with coverage of the plenary and keynote speakers and other sessions.
Click here to learn more about this year's student writers.
Meet Your Annual Meeting Bloggers
Be sure to frequently check the Annual Meeting website to read commentary from your peers about their experiences in Seattle. Feel free to post your own comment! Confirmed guest bloggers for 2019 include:
| | |
| --- | --- |
| Ted Allen | Dirk Lauinger |
| John Angelis | Gino Lim |
| Rishabh Bhandawat | Kayse Lee Maass |
| Alan Briggs, CAP | Freeman Marvin, CAP |
| Austin Buchanan | Polly Mitchell-Guthrie |
| Aaron Burciaga, CAP | Serguei Netessine |
| Allen Butler | Destenie Nock |
| Jim Cochran | Patrick Noonan |
| Tinglong Dai | Patricia Randall |
| Sagnik Das | Paul Rubin |
| Greg Doonan | Matt Saltzman |
| Esma Gel | Thiago Serra |
| Mary Helander | Frances Sneddon |
| David Hunt | Shiva Subramanian |
| Margarit Khachatryan | Aurelie Thiele |
---

---

INFORMS Communities & Subdivisions
Community Meetings
All are welcome to these meetings featuring business meetings, receptions, and networking sessions. For a complete listing, please click here.
Join a Community!
Whether you are a new or existing member of INFORMS, take some time while in Seattle to sign up for a Community (also known as Subdivision) of your choice. There is no better way to maximize your membership and build your network. As a new 2019 or 2020 member, you qualify for one free Community! Click here to learn more.
---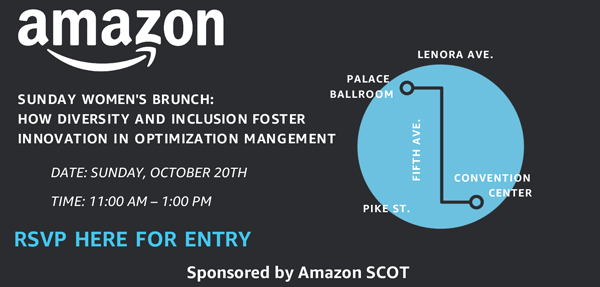 ---
Can't-Miss Social Events
Member Meeting, Receptions, Awards, and More!
Come meet and form lasting connections with your fellow attendees at several social events that will be held during the meeting, including:
Welcome Reception


Sunday, October 20, 7:30-9pm


Washington State Convention Center, Exhibit Hall 4AB, Level 4


INFORMS and the Seattle Organizing Committee welcome you to the 2019 INFORMS Annual Meeting with an evening of fellowship and fun. The Welcome Reception is the perfect venue to meet with colleagues and visit the exhibits.



INFORMS Member Meeting & Reception
Tuesday, October 22, 6:15-7:15pm
Sheraton Grand Seattle, Grand Ballroom A, 2nd Floor
The INFORMS Board of Directors encourages all members to bring their ideas, opinions, and suggestions to this meeting. Current business and future directions for INFORMS will be discussed. Outstanding members will be celebrated with the presentation of the Volunteer Service Award.

Come to mingle, network, and celebrate! Light snacks, soft drinks, bottled water, beer, and wine will be served.



General Reception
Tuesday, October 22, 7:30-10pm
Washington State Convention Center, 4E, Level 4 (Accessible via the Skybridge)
Come enjoy a Northwest inspired menu, with salmon of course! Compete with your colleagues in a game on the giant football table or shoot the most basketball hoops and get your name on the top 10 list. You can also immerse yourself in the digital world with virtual reality pods. This reception provides the perfect atmosphere for fellowship and networking while also having a bit of fun after a long day of sessions.
Click here to learn more about these and other exciting social events!
New Member Welcome Breakfast
Sunday, October 20
7-8am
Sheraton Grand Seattle, Grand Ballroom D, Second Floor
New INFORMS members are invited to attend. The session will feature brief presentations on how to navigate the meeting and how to get the most from your membership. Representatives from INFORMS communities will host tables where you can meet other new members who share your professional interests. INFORMS veteran members will facilitate informal networking with discussion prompts. Enjoy coffee, tea, and a continental breakfast. Click here to learn more.
---
---

Pro Bono Analytics
Homelessness, joblessness, poverty, and hunger… they are some of the colossal hurdles facing our society. This year, at our Annual Meeting, INFORMS Pro Bono Analytics is partnering with a Seattle-based nonprofit organization to put an end to some of the heartache being felt by the local community.
FareStart is an organization providing people who are struggling with the skills they need to get a job in the field of food services and culinary arts, while also taking away some of their fears by helping to provide necessities like clothing and food.
How can you help? The INFORMS volunteer initiative will aid the Seattle community by building hygiene kits and making "no-sew" blankets for homeless students. The cost for each hygiene kit is just $5 and the blankets are $18. Any further donations will fulfill the FareStart wish list, consisting of items like clothing and gift cards.
Together, we can help people overcome their obstacles and create and achieve new dreams.
Please consider a monetary donation to assist INFORMS and its members in their continued efforts to support the communities of our conference host cities.
The Pro Bono Analytics Micro-Volunteering activity will be located at the INFORMS Center in Washington State Convention Center, Exhibit Hall, AB, Level 4.
Sunday, October 20, 12noon-5pm and 7-9:30pm
Monday, October 21, 9am-5pm
Tuesday, October 22, 9am-4pm
---
INFORMS Annual Meeting Survey
INFORMS is asking for your feedback on a mini two question survey that also enters you in the running for a special prize! The printed survey, which will be available at INFORMS Registration and the INFORMS Center, is asking for your feedback on the meeting day pattern, as well as your preference of which days you would prefer to present. Your completed survey must be turned in at the INFORMS Program Information Desk, Level 4, Atrium by Tuesday, October 22, by noon to be entered into the drawing.
The grand prize drawing for a pair of Bose Headphones will take place on Tuesday, October 22, at 1:45pm in the Washington State Convention Center, INFORMS Center, Exhibit Hall, 4AB, Level 4. You must be present at the time of the drawing to win.
---

Share Your Experience
Share your photos and video using #informs2019, and follow @INFORMS2019 on Twitter for official conference updates. Engage with INFORMS on Instagram and check out real-time conference videos and the INFORMS Seattle Geofilter (available in the Washington State Convention Center and the Sheraton Grand Seattle) on Snapchat at @INFORMS_ORMS. Be sure to check out conference photos on the INFORMS Flickr account.

Join the Annual Meeting LinkedIn Group and the Annual Meeting Connect Group to virtually connect with fellow attendees and discuss key topics of the day.
---