Everyday Giving
You can make a difference with your everyday purchases, through recycling or to give a gift for a special occasion. Old Colony Hospice has partnered with organizations to offer you the opportunity to help others as you go about your everyday activities. If you shop on Amazon, please register to support Old Colony Hospice and a portion of your purchase will come to us as a donation (.05%). Click the logo below to start shopping Amazon Smile!
UpCycle
Do you have old electronics at home or do you own a business and currently spend money to recycle your Corporate ITAD? You can turn your electronics into donations by working with our partner, America UpCycles to keep e-waste out of landfills and turn it into giving to help our patients. This helps the environment and gives us funds to provide compassionate care every day. see the information below or click on the link about America UpCycles to learn more.
What Devices Qualify for UpCycle?
For FREE UPS Shipping Labels Click Here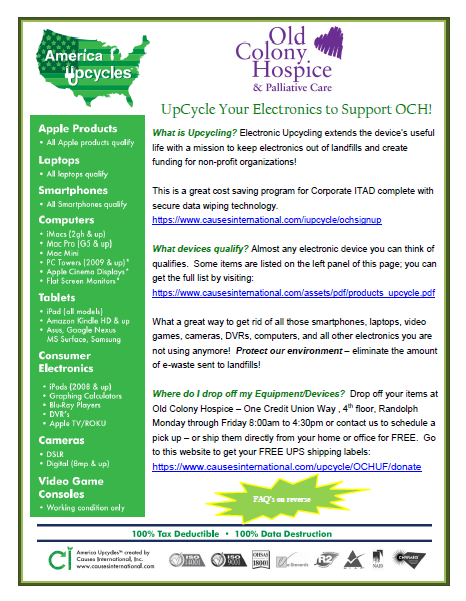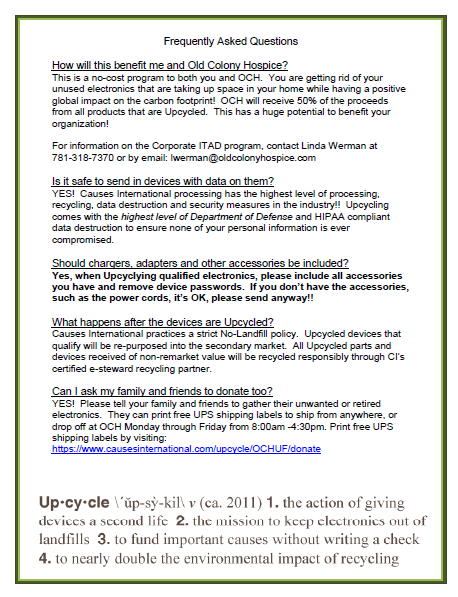 Heart for Hospice Bracelets
Is there a special occasion coming up - Mother's Day, Graduation, Bridal Party, Birtheday, Anniversary, or just because? Purchase this beautiful Heart for HOspice Bracelet for that Special someone or say thank you to someone who has helped you and your gift will help others today
The Women's Craft Cooperative of Rosie's Place in Boston MA has designed a special Heart for Hospice bracelet to benefit Old Colony Hospice. Inspired by the mission of Old Colony Hospice, the Women's Craft Cooperative Developed Heart for Hospice in honor of the care we provide to patients and families.
The bracelets are a beautiful combination of glass beads and silver accents with a dangling heart, the logo of Old Colony Hospice. The bracelets are affordably priced at $20 each plus $5.95 shipping.
"Proceeds from the sale of these beautiful hand-crafted bracelets will help us continue to offer the very best in hospice and palliative care to our patients and familes. We are so grateful to the talented and caring women of the Women's Craft Cooperative of Rosie's Place" said Toni Eaton, President/CEO of Old Colony Hospice.
The Heart for Hospice bracelets may also be purchased at Old Colony Hospice, located at: 1 Credit Union Way Randolf, MA (If entering into your GPS , use 247 North Main St. Randolph, MA, 02368)
Click here to place an online order
Click here to print the order form or call 781-341-4145 and ask to speak to Kathrine Kelly!