Follow Steve's adventures to enter to win your Microsoft Band

Microsoft Ignite is just a few weeks away! This will be the major 2015 Microsoft event and you will be part of the lucky ones running from one conference to another, stepping on the showfloor and stretching out your brain to gather as many Microsoft insights as possible.


Looking forward to this exciting marathon, right? So are we!


At GSX Solutions, we enjoy having fun and therefore decided to put together a series of comics to illustrate the warm-up preparation before D-day.


Synopsis: Steve, our hero, has registered for Microsoft Ignite and realizes the conference is just about to take place. He is starting to feel nervous and has the impression of missing out. To improve his strength and endurance he wants to get prepared and be in good shape. That's why he decides to hit the GSX Fitness Center. Follow his evolution week after week, with the precious help of his GSX Robot User Coach, Steve increases his performance and gets better and better.


Every week, a comic will be released until the conference begins, make sure you follow us on social media and share this message to your colleagues and friends on Twitter:
"Ready to win a #MicrosoftBand for #MSIgnite with @GSX_Solutions and the #RobotUser "

We are giving away a Microsoft Band


Live healthier
Stay connected
Be more productive
The price will be delivered to the winner at the GSX booth #620 during the conference.
This offer will end on April 24th. The price will be delivered to the winner on day 1 at the conference.

What does GSX Solutions do?


We are committed to bring you best-in-class monitoring and reporting solutions for Microsoft Exchange, SharePoint, Lync, Office 365 and BlackBerry.


GSX Monitor & Analyzer allows you to monitor, alert and receive valuable statistics on the service delivery and performance of components that really matter in your infrastructure. Fully agentless, GSX acts as a #RobotUser, sitting on a virtual machine or any laptop to automatically discover, display, troubleshoot and report on the health of your collaborative environment.


Comics - What happened last week?


Round 1: Nervous breakdown is around the corner
Round 2: Warm-Up Kick Off
Round 3: Skipping the rope for Dummies

Round 4: Swimming like a mermaid
Round 5: Head Shoulders knees and toes, knees and toes
Round 6: No pain, no gain
Round 7: When the dream comes true
Nervous breakdown is around the corner

Warm-Up Kick Off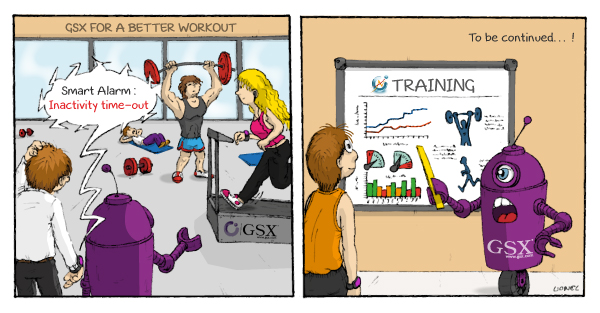 Skipping the rope for Dummies


Swimming like a mermaid

Head Shoulders knees and toes, knees and toes

No pain, no gain

When the dream comes true